Professors E. Palomares and J. R. Galán-Mascarós have been awarded a 'Proof of Concept' (PoC) grant to establish the innovation potential of ideas arising from their ERC-funded projects.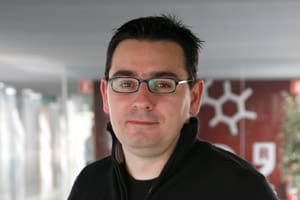 The project of Emilio Palomares aims to develop a demo system for cost effective, non-invasive device for rapid detection of cystic fibrosis in humans. "Our research group has developed a biomarker that allows the accurate measurement of trypsin level in humans, a parameter used in the diagnosis of cystic fibrosis. With this project we want to go one step further and fabricate a friendly-to-use measurement device that registers the changes in fluorescence of our designed biomarker in the presence of trypsin and can be used directly for its detection," says Palomares.
Jose Ramón Galán-Mascarós project focuses on the determination of the technical and economic viability of a novel water electrolyzer technology based in inexpensive Prussian blue type catalysts. "During the characterization of one of the derivatives of one of the PB derivatives that we had prepared we found it had a great ability to catalyze water oxidation. The currently great importance of this process led us to further study this catalyst and we found that it has a series of features (efficiency, durability and low cost), making it an excellent candidate for technological and industrial applications, which is what we want to develop in this new project," explains Galán-Mascarós.
Worth up to €150.000 per grant, 'Proof of Concept' funding helps ERC grant holders to bridge the gap between their existing frontier research and its commercial applications. This top-up funding will enable the scientists to cover costs of technical validation, create a start-up to explore business opportunities, or establish intellectual property rights, for example.
Media
Els matins TV3: Joves investigadors