Technology Transfer Strategy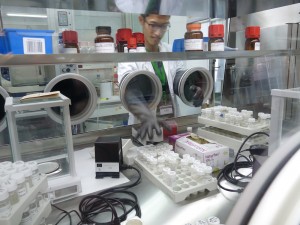 The Industrial Property Unit of ICIQ designs and implements in close collaboration with the researchers a protection strategy for the results of research of commercial and industrial relevance. Patent protection is sought for those results of research that present commercial and/or industrial potential and a plan for the development and commercialization of the technology.
The combination of IP rights and a strategy for technology commercialization forms an ideal package to facilitate the uptake of the technology by the private sector, either through licensing to a third party company or through the creation of a spin-off company.
ICIQ implements a flexible licensing strategy while seeking the joint development of a technology with an industrial partner, following a progressive and rational approach to technology development through the adoption of a series of milestones corresponding to technical or regulatory achievements, with the ultimate goal of making the technology available to society.
This page is designed to showcase current technology transfer activities of ICIQ and the opportunities in patent applications and registered software. This page represents a public offering of said technology-based commercial opportunities.
The R&D works related to incubation of technologies carried out at CSOL Unit receive financial support from "la Caixa" Foundation.