From citrus peel to polymers: polycarbonates and polyesters derived from limonene
Technology Status: TRL 4 (Technology development) Non-provisional  US application
Sectors of Application: Functional materials, chemistry, polymers, textile, coatings, adhesives, packaging
Introduction
The petroleum-based plastics industry deals with two major challenges: the environmental problems caused by plastic waste and the eventual depletion of petroleum resources. For instance, poly(bisphenol A carbonate) has been used for many years in the plastics industry due to its great properties such as high impact strength, toughness (Tg of 145ºC), heat resistance and high transparency and is currently being banned since it is suspicious of causing endocrine disorders. In parallel, fossil-based resources are depleting progressively. Polymer industry is thus in need for more sustainable and safe sources of raw materials.
In order to overcome this limitation, Professor Arjan Kleij and his group have developed a process to obtain polycarbonates using bio-based reagents such as limonene oxide and CO2, both renewable reagents. A similar process yielding polyesters has been developed using acid anhydrides instead of carbon dioxide in the reaction. Both processes afford materials with properties suitable for the development of coating applications among others.
Description of solution
The preparation of limonene-based polycarbonate is based on several synthetic steps. In a first step, poly(limonene)carbonate (PLC) is formed from limonene oxide and carbon dioxide. The resulting polymer contains a repeating unit having a pendent double bond which is epoxidized in a second step and further converted in a cyclic carbonate in a third step, thus yielding the poly(limonene)dicarbonate. The resulting PLDC products exhibits an unusually high glass transition temperature, which makes it suitable for certain applications, such as coating applications. The method performs the synthesis of the PLDC from limonene by sequential epoxidation/carboxylation of the limonene. One advantage is that both isomers of limonene oxide are reactive in the ring-opening polymerization leading to polylimonenecarbonate (PLC), such that there is no need to upgrade or purify commercial limonene oxide to a single diasteroisomer. Noteworthy, the pendent double bond in PLC can further be functionalized through chemical modification in order to introduce functionality to the prepared polymer. The resulting ingredients may be used in the formulation of coating applications.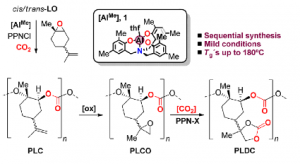 In a similar manner, the preparation of polyesters from limonene can be performed by ring-opening copolymerization (ROCOP) in presence of various polyaromatic anhydrides. The process uses a specific catalyst allowing the formation of a polymer with a narrow index of polydispersity than the catalysts described in the state of the art. The developed process affords high conversion of anhydride, leading to high molecular weight polymers with reasonable indexes of polydispersity. Last but not least, the prepared polyesters benefit from high glass transition temperatures.  The copolymerization reactions proceed with excellent selectivity toward fully alternating polyesters (≥98% ester bonds)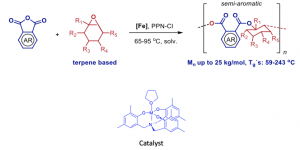 Advantages and unique selling points
Biobased monomers: Limonene can be obtained from citrus peel. Nowadays, most limonene is produced from citrus rind, a major by-product generated during fruit processing in citrus juice industries. Global limonene production is increasing at a rapid rate and is predicted to exceed 65 kT by 2023, with a considerable untapped potential.
Readily available reagents: CO2 is used as a reagent: carbon dioxide is cheap, readily available in large amounts and is currently an environmental concern for its greenhouse effect. Limonene oxide is readily available from limonene obtained by extraction from citrus peel, a waste for agrofood industry.

Functionality on-demand

: PLC has a pendant double bond per repeating unit. This fact allows to change its properties using click chemistry or epoxidation chemistry. Various functionalities can thus be introduced, thus leading to the preparation of active materials useful in the formulation of performance materials.

Recyclability

: Recyclability for its monomers has been described. Chemical degradation of polymeric PLC to monomer is possible.
Excellent selectivity: The copolymerization reactions proceed with excellent selectivity toward fully alternating polyesters (≥98% ester bonds).
 Status of Technology
The present technology has been proven at the laboratory and the preparation of PLC has been scaled-up to the multigram scale (300 g batch).
Type of partnership sought
Partner for joint development and/or commercialization of products and custom applications of the developed materials is sought.
Samples of materials are available for testing through Material Transfer Agreements.
Global licensing rights for the materials and methods are available.
Regional licensing deals may be considered.
Flexible licensing strategy related to development milestones.
IP Situation
Two US non-provisional application has been filed:
1-Title of the patent: Sustainable process for preparing poly(limonene)decarbonate having high glass transition temperature.
-Application numbers: US20190322803
-Applicants: Fundació Institut Català d'Investigació Química (ICIQ) – Institució Catalana de Recerca i Estudis Avançats (ICREA)
-Inventors: Alex Cristofol, Nicole Kindermann and Arjan Kleij
-Priority date: 17 April 2019
2-Title of the patent: Sustainable process for preparing polyester having high glass transition temperature.
-Application numbers: US20200002472
-Applicants: Fundació Institut Català d'Investigació Química (ICIQ) – Institució Catalana de Recerca i Estudis Avançats (ICREA)
-Inventors: Carmen Martín, Leticia Peña, Arjan Kleij
-Priority date:  2 Jul 2019
References