ArI-Catalyzed Synthesis of Benzolactones highlighted in Synfacts
November 24, 2014
A paper published by Prof. Ruben Martin group in Angewandte Chemie International Edition has been highlighted in Synfacts, Vol 10, Issue 12, 1255. Synfacts selects the most significants results on synthetic organic chemistry that appear in the literature considered as the future trends in synthetic chemistry. The paper deals with the development of a tandem C(sp2)H […]
Congratulations Dr. Bautista!
November 20, 2014
Antoni Bautista, PhD student under the supervision of Prof. Pau Gorostiza and Prof. Miquel A. Pericàs, has defended his PhD Thesis entitled "Design and Synthesis of Photoswitchable Molecules for Biological Applications" (assigned to the Organic and Analytical Chemistry Department of the Universitat Rovira i Virgili) publicly on November 20th at the ICIQ Auditorium. The members […]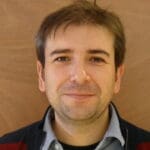 Dr. Julio Lloret-Fillol, new group leader at ICIQ
November 17, 2014
Dr. Lloret-Fillol has joined ICIQ through ICIQ's Starting Career Programme (ICIQ-SCP), a programme aimed at attracting new talent and help young researchers (post-doc level) to start their independent careers. Julio Lloret-Fillol graduated in Chemistry from the Universidad de Valencia in 2001 where he also obtained his PhD in 2006, working under the supervision of Prof. […]
Easily processable Single-Molecule Magnets
November 14, 2014
The collaboration between two ICIQ's research groups (P. Ballester and J. R. Galán-Mascarós) has allowed the design, synthesis and characterization of a new family of complexes that exhibit single-molecule magnet behaviour with high blocking temperatures. Single molecule magnets (SMMs) are molecules that show magnetic behaviour below a certain temperature known as blocking temperature. They have […]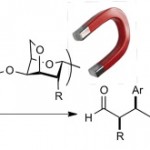 Catalysis with hybrid magnetic materials highlighted in Synfacts
November 14, 2014
A paper published by Prof. Miquel A. Pericàs group in Tetrahedron has been highlighted in Synfacts, Vol 10, Issue 11 (1229). Synfacts selects the most significant results on synthetic organic chemistry that appear in the literature considered as the future trends in synthetic chemistry. The paper deals with the use of hybrid magnetic materials (prepared from κ-carrageenan […]
Congratulations Dr. Ziadi!
November 10, 2014
Asraa Ziadi, PhD student under the supervision of Prof. Ruben Martin, has defended her PhD Thesis entitled "Metal-Catalyzed Functionalization of C-C Bonds in Four-Membered Rings" (assigned to the Organic and Analytical Chemistry Department of the Universitat Rovira i Virgili) publicly on November 10th at the ICIQ auditorium. The members of her evaluation committee were: Prof. […]
Vidal et al. paper in the inside cover of Chemistry A European Journal
November 10, 2014
 The paper deals with the preparation of a set of narrow bite-angle P–OP ligands the backbone of which contains a stereogenic carbon atom. The synthesis was based on a Corey–Bakshi–Shibata (CBS)-catalyzed asymmetric reduction of phosphomides. The structure of the resulting 1,1-P–OP ligands, which was selectively tuned through adequate combination of the configuration of the stereogenic carbon […]