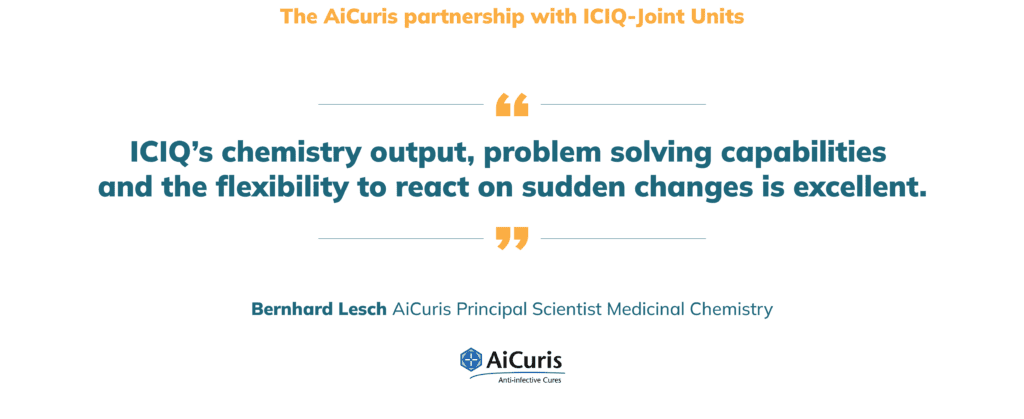 The Institute of Chemical Research of Catalonia (ICIQ-CERCA)-Joint Units have created a partnership agreement between companies and the centre, allowing the first ones to expand or relocate their research areas to improve their competitivity.
The access to a full equipped laboratory, and to ICIQ's Scientific Core Facilities Area, are some of the advantages of these contracts. Small, medium or large companies can carry out their R&D and synthetic activities in a laboratory for, at least, 6 scientists.
AiCuris, hosted in the centre until 2022, is the last international company with a partnership agreement with ICIQ. The German company, founded in 2006 as a spin-out from Bayer Infection Research, is specialized in creating innovative drugs to treat infectious diseases. The collaboration with the Catalan Institute helped them "to develop our molecules to the next stage of our drug development", as states Bernhard Lesch, the AiCuris Principal Scientist Medicinal Chemistry.
The research work involved solving the multistep synthesis of small molecules, producing Structure-Activity Relationship (or SAR, an approach designed to find relationships between chemical structures and biological activity of compounds) that helped them to develop hits into lead molecules and, in some cases, scaling up synthesis up to a 10 g scale.
According to Lesch, "the group was located at ICIQ, with a number of chemistry groups working there and with several analytical instruments available, when needed, which brought further advantages to the project". This interaction with ICIQ's research groups is a key advantage for companies working with Joint Units "in finding solutions to the tricky problems that emerge in any project", as Lesch points out.
The interaction with ICIQ's research groups is a key advantage to companies in Joint Units.
Bernhard Lesch, AiCuris Principal Scientist Medicinal Chemistry
However, this is not the only advantage that companies can find in the collaboration projects. Bernhard Lesch claims that he was impressed by the level of their discussions on Medicinal Chemistry: The discussions with the Joint Units team "were on a level I never experienced in my earlier interactions".
For sure, as it was mentioned, Scientific Core Facilities Area allows the companies use several analytical instruments, bringing advantages to the project. This Area includes start-of-the-art technologies, along with the highly qualified department personnel. On the other hand, the laboratory offered to companies is fully equipped with chemistry gadgets and seven fume hoods.
"I would rate them 10 out of 10"
For all these, Lesch would recommend other companies to start a collaboration project with ICIQ: "I am sure they can prove to be a great asset for any project requiring, in particular, synthesis skills as well as the knowledge of medicinal chemistry", claims. And he would rate ICIQ extremely good, 10 out of 10.
According to his experience, ICIQ can combine difficult syntheses with certain Medicinal Chemistry support at a reasonable price. A centre, to sum up and, as he sentenced, with great chemistry output, problem solving capabilities and excellent flexibility to react on sudden changes.