Xuetong Li, a PhD student who is under Prof. Arjan Kleij's supervision, has successfully defended her PhD thesis entitled "Silver-Catalyzed Cascade Conversions of CO2 into Heterocycles" publicly on September 27th.
The members of the evaluation committee were Prof. Dr Oscar Pamies (Universitat Rovira i Virgili), Prof. Dr. Eduardo García Verdugo (Universidad Jaime I) and Prof. Dr. Giulia Fiorani (Università Ca'Foscari Venezia).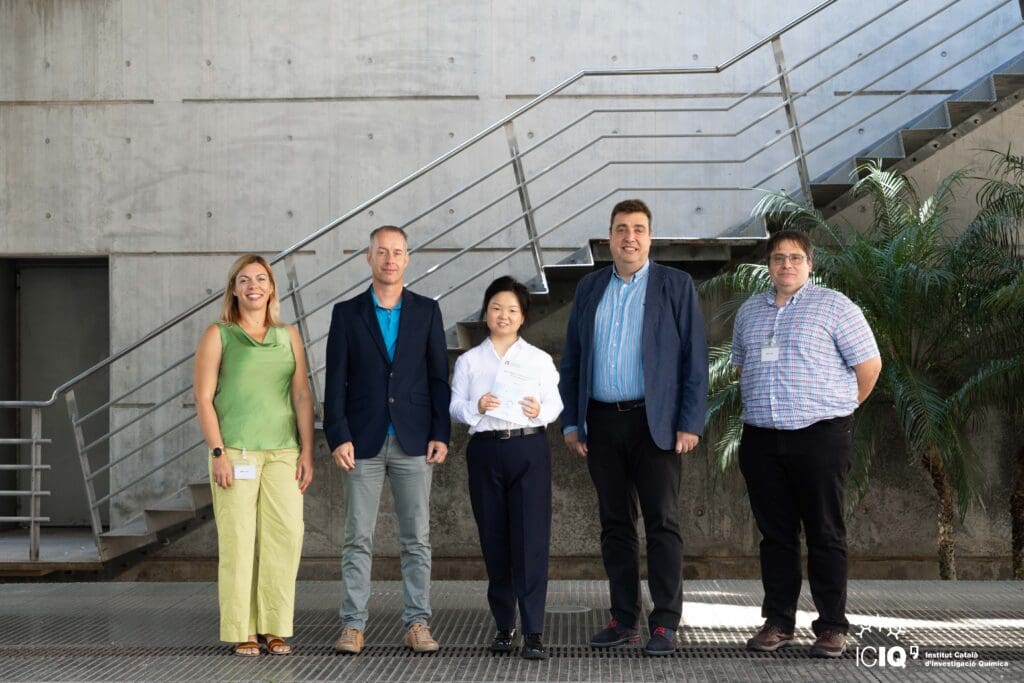 Dr. Xuetong Li is from China. She came to ICIQ in 2019, after finishing her Master's degree from Shaanxi Normal University. Her work is mainly focused on the research of organic synthetic cascade reaction, and her PhD was funded by the Chinese government, China Scholarship Council (CSC).
What do you want to achieve as a scientist?
As a scientist, my goal is to become a supervisor and teach the knowledge I have acquired to my students.
What is your thesis about?
My thesis centres around the Ag-catalysed cascade conversion of carbon dioxide into heterocycles.
What triggered your interest for the subject of your thesis?
The potential applications of CO2 caused me to become interested in the subject of my thesis.
What applications can your thesis have in the future?
In the future, my thesis can serve as valuable guidance for addressing CO2 emissions and expanding research into cyclic carbonates and carbamates.
The thing that I like most about my thesis is….
…the utilization of CO2 as a starting material.
From the lessons learnt (or skills developed) at ICIQ, which one do you value the most?
I value the ability to think independently the most among the lessons I learned at ICIQ.
What ICIQ moment you will never forget?
My thesis defence.
What will you miss the most from ICIQ?
All the people and experiences from ICIQ are what I will miss the most.
What advice do you have for someone who's starting their PhD now?
If you are starting your PhD now, my advice is to put in your best effort in everything you do.
Who has been your biggest influence/motivation?
My supervisor, Arjan, has been my biggest influence and motivation.
Science is fun because…
…it has the power to create substances not found in nature.
What is your favourite molecule?
My favourite molecule is CO2
If you were a piece of lab equipment, what would you be?
As a piece of lab equipment, I would be a fume hood.