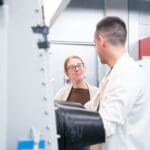 Applications Now Open for Joan Oró Predoctoral Fellowships: Enhance Your Research Journey with ICIQ
September 29, 2023
The prestigious Joan Oró Predoctoral fellowships, initiated by Agaur, are now accepting applications. This remarkable opportunity opens doors for aspiring researchers to delve into the world of academia and innovation. For those with a keen interest in advancing their expertise in the field of chemistry, this fellowship presents an ideal platform. Fostering Excellence: Engaging with […]
恭喜, Dr. Li!
September 27, 2023
Xuetong Li, a PhD student who is under Prof. Arjan Kleij's supervision, has successfully defended her PhD thesis entitled "Silver-Catalyzed Cascade Conversions of CO2 into Heterocycles" publicly on September 27th. The members of the evaluation committee were Prof. Dr Oscar Pamies (Universitat Rovira i Virgili), Prof. Dr. Eduardo García Verdugo (Universidad Jaime I) and Prof. […]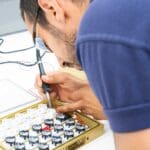 Creating and upgrading chemistry tools: the Mechanical and Glass Blowing ICIQ Workshops
September 27, 2023
Do you need a state-of-the-art photoreactor that is not available in the market? Could your devices be optimised to achieve a realoptimal procedure? Are you thinking about a new piece to complement your industrial development techniques? There are two Workshops in the Institute of Catalan Research of Catalonia (ICIQ-CERCA) where everything can be produced to […]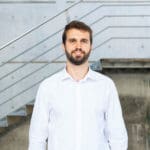 Честитам, Dr. Nikačević!
September 26, 2023
Pavle Nikačević, PhD student under the supervision of Prof. Núria López (ICIQ), has defended his PhD thesis entitled "Atomistic Insights into Photocatalytic Mechanisms: Modeling Selected Processes with Density Functional Theory" publicly on September 26th. The members of the evaluation committee were Prof. Samira Siahrostami (University of Calgary, Canada), Prof. Sixto Jiménez Juliá (Institute of Advanced […]
Celebrating the 3rd edition of ICIQ Alumni Day: Fostering connections and inspiring success stories
September 22, 2023
Institute of Chemical Research of Catalonia (ICIQ-CERCA) continues its commitment to foster a strong community through ICIQ Alumni Programme. A highlight of this initiative is the annual ICIQ Alumni Day, which recently marked its third successful edition. The primary objective of this event is to strengthen connections within ICIQ community and reunite former ICIQers, providing […]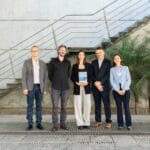 Enhorabona, Dra. Talavera!
September 21, 2023
Laura Talavera, PhD student under the supervision of Prof. Ruben Martín (ICIQ), has defended her thesis entitled "Functionalisation of sp3 C-O Bonds and Olefins Enabled by Nickel Catalysis" publicly on September 21st. The members of the evaluation committee were Prof. Dr. Alex Shafir (Institut de Química Avançada, Barcelona), Prof. Dr. Mariola Tortosa (Universidad Autónoma de Madrid) […]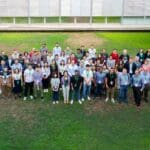 Solar2Chem Conference 2023 Kicks Off: Pioneering the Solar-to-Chemical Revolution
September 20, 2023
International Experts Unite to Advance Science and Environmental Responsibility On Monday, the Solar2Chem Conference started, marking the beginning of this international event, hosted at the Institute of Chemical Research of Catalonia. This event is organized and aimed at PhD students, and it is dedicated to exploring the intersection of solar energy and chemical processes. The […]