ICIQ participates in the European Researchers' Night
September 21, 2021
For the fourth consecutive year, Tarragona is one of the host cities of the European Researchers' Night. Under the motto "Research for change", the event wants to convey the importance of the research carried out in Catalan institutions and its impact on our daily lives. ICIQ will join the event through the talks and workshops […]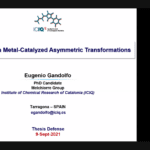 Congratulations, Dr. Gandolfo!
September 9, 2021
Eugenio Gandolfo, PhD student under the supervision of Prof. Paolo Melchiorre has defended his PhD thesis entitled "Light-driven Metal-catalyzed Asymmetric Transformations" (assigned to the Organic and Analytical Chemistry Department of the Universitat Rovira i Virgili) publicly, on September 9th. The members of the evaluation committee were: Prof. José Manuel González (Universidad de Oviedo), Prof. Arjan […]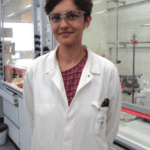 Dr. Franchino wins Young Researcher Lecture prize
August 12, 2021
The Organic Division of the Italian Chemical Society (SCI) has awarded Dr. Allegra Franchino with the 2021 SCI Young Researcher Lecture prize for her contribution to the upcoming SCI plenary congress. "This prize is a big encouragement to keep going on with my research, it means that the work that my coworkers and I have […]
The surprises of scaling up
August 9, 2021
Following up on a 2017 JACS paper, researchers from the Muñiz group together with CSOL, ICIQ's technology development Unit, set out to scale up the synthesis of enantiopure aryl-iodine pre-catalysts. After some surprising discoveries, the scientists have published an improved and upscaled reaction in Organic Letters, where they describe how to produce up to 20 […]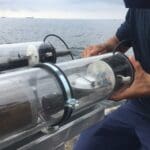 ICIQ & URV collaboration to assess pollutants in water
August 5, 2021
Finding the right partner for a job can make all the difference – in science as much as in life. For the URV project INSPECTION (IN Situ device for Pollutants dEteCTion In cOntiNuos, financed by AGAUR and FEDER), the right team included ICIQ's Mechanical Workshop. This summer, Jose Luís León and Aleix Terrado have undertaken […]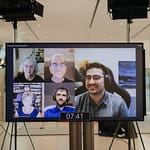 Ingenious meetings in Lindau
July 30, 2021
Craig Day, PhD student in the Martin group has remotely attended the 2021 Lindau Nobel Laureate Meeting. Day is currently doing a six-month placement in John Hartwig's lab at UC Berkley, where he's studying the mechanism of an iron-catalyzed C(sp3)-H azidation reaction the Hartwig lab published in Nature in 2015. From the 27th of June […]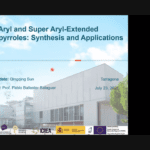 Congratulations, Dr. Qingqing Sun!
July 23, 2021
Qingqing Sun, PhD student under the supervision of Prof. Pau Ballester, has defended her PhD thesis entitled "Aryl and Super Aryl-Extended Calix[4]pyrroles: Synthesis and Applications" (assigned to Organic and Analytical Chemistry Department of the Universitat Rovira i Virgili) publicly on July 23rd. The members of the evaluation committee were: Prof. Laura Rodríguez (Universitat de Barcelona), […]