A significant gender gap has persisted throughout the years at all levels of Science, Technology, Engineering and Mathematics, the STEM disciplines all over the world. Even though women have made tremendous progress towards increasing their participation in higher education, they are still underrepresented in these fields.
Gender equality has always been a core issue for the United Nations and ICIQ. Gender equality and the empowerment of women and girls will make a crucial contribution not only to economic development of the world, but to progress across all the goals and targets of the 2030 Agenda for Sustainable Development, as well.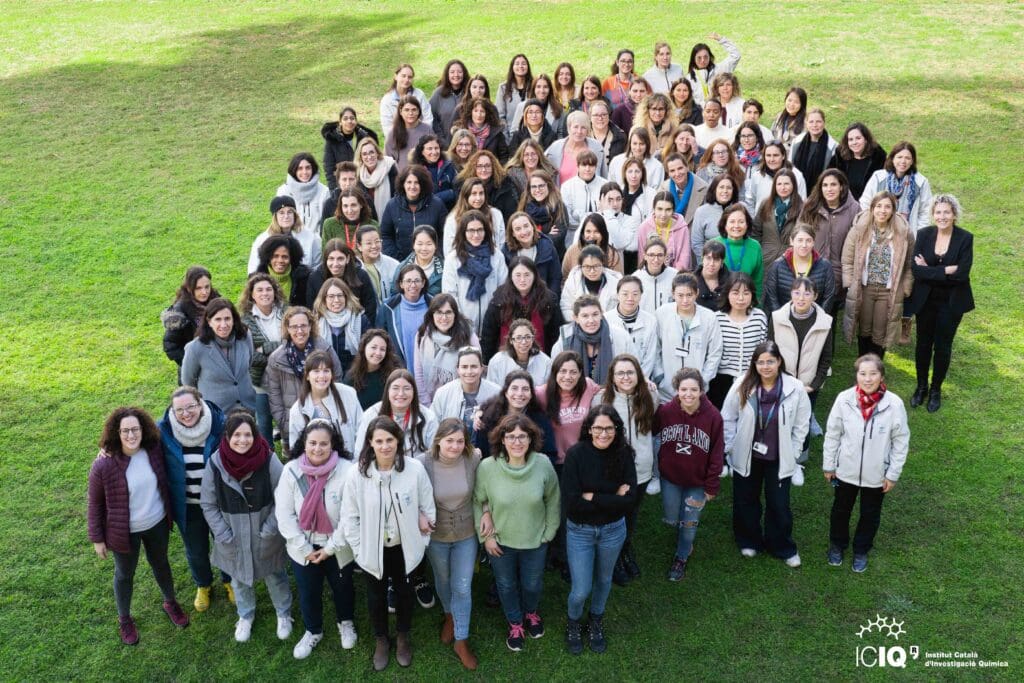 Therefore, ICIQ women researchers participated in many different events not only to awaken scientific vocations among young people but also to normalize and make visible female references in science.
GLOBAL WOMEN BREAKFAST 2023 – TARRAGONA
Prof. Mónica Pérez-Temprano and Lydia Gil (from the blog SocialMediaEnInvestigacion.com) had a dialogue under the title of "Visibility of women scientist in public media: a dialogue between a scientist and a science communicator". The dialogue was moderated by the professor of the URV Faculty of Chemistry, Dra. Núria Ruiz.
GWB2023 was organised by URV, ICIQ and the International Union of Pure and Applied Chemistry (IUPAC).
They talked when science is developed by women,  to reflect on the opportunities, challenges and obstacles encountered in their careers to win or to give visibility to women scientists in the media..
Prof. Mónica Pérez-Temprano also participated in the Global Women Breakfast from Israel, in a virtual format. She delivered the talk "Deciphering Mechanisms to Design Better Catalytic Reactions".
#100TÍFIQUES
The #100tífiques program is supported by the Fundació Catalana per a la Recerca i la Innovació (FCRI) and the Barcelona Institute of Science and Technology (BIST).
On Friday February 10th, 567 women scientists from all around Catalunya delivered talks to promote female references in science.
From ICIQ, eight women researchers attended eight different schools to talk about their experience and careers and what her day-to-day is about. It was also an opportunity to encourage children to continue asking questions and finding answers.
We would like to thank Dr. Eugenia Martínez, Dr. Imma Escofet, Dr. Dolores Jurado, Gala Ogalla, Neus Sunyer, Carlota Odena, Beatriu Domingo, and Tania Medina for their participation.
SCIENCTIST IN ACTION…. EXPERIMENT!
Carlota Odena, PhD student from Ruben Martin's group, is one of the 6 scientists participating in the second edition of this program "Scientists in Action… Experiment!" within the FECYT Repte Experimenta project where ICIQ is a partner.
WIKIMARATHON
ICIQ has supported a scientific Wikimarathon with a gender perspective, organized from PRBB in collaboration with ViquidonesUPF and Amical Wikimedia in hybrid format on February 13th. The aim, is to edit and create Wikipedia pages (in any language) where women scientists and/or their contributions are represented.
On social media, we also have a campaign to promote #everyday #womeninSTEM, the work and contributions of different ICIQ women researchers, the 11th day of every month.
Stay tunned on Twitter every day 11th of each month!