📅 October 4th and 5th, 2023
📍 ICIQ Auditorium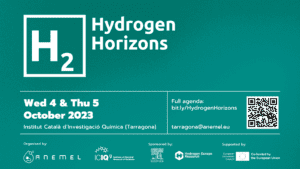 Welcome to the 1st Green Hydrogen Workshop in Tarragona!
Join us as we dive into the exciting world of green hydrogen, a key solution for a sustainable future.
Through informative sessions, interactive discussions, and more, we aim to foster collaboration and knowledge exchange among participants from around the globe. Whether you are a researcher, policymaker, entrepreneur, or simply curious about this emerging field, this workshop provides a platform to learn, connect, and contribute to the advancement of green hydrogen technologies.
Don't miss this opportunity to be part of the inaugural Hydrogen Horizons workshop. Join us and help shape the path towards a greener tomorrow!
October 4th, 2023
10.00 – Registration
11.00 – Visit to Dupont
     11.00 – Introduction to DuPont (ICIQ Auditorium)
     11.40 – Bus from ICIQ to DuPont (front ICIQ Parking)
     12.05 – Visit to DuPont Research Center (pilots + lab)
     12.45 – Return bus to ICIQ
13.00 – Registration and lunch
14.00 – Welcome address
                Emilio Palomares, ICIQ Director
                Pau Farràs, ANEMEL Coordinator
14.30 – Presentation of the European Innovation Council (EIC) Pathfinder Portfolios
                Francesco Matteucci, EIC
15.00 – Scientific session: talks by portfolio partners
                Pau Farràs, Galway University, ANEMEL
                Iván Mora-Seró, OH2PERA
                Philippe Vernoux, ELOBIO
                Riccardo Valpiani, H2STEEL
                Alfonso Jaramillo, PhotoSynH2
                Alan Drumm, GH2
                Abhilash Venkateshaiah, MacGhyver
16.30 – Coffee Break
17.00 – Innovation session: talks by energy start-ups
              Alberto Bucci, JOLT
              Albert Mitjà, Indox
              Xingyu Wu, NovaMea
              Albert Puga Vaca, HacDos
18.00 – End of activities at ICIQ
October 5th, 2023
09.00 – Guided tour to ICIQ
                Laura Hernández, ICIQ Impact, Communication & Strategy Manager
                Joan Guillem Mayans, ICIQ Outreach
09.45 – European funding session
               Trends in hydrogen generation and European initiatives
                Marco Pantaleo, EIC
10.15 – Industry Session
               Isaac Justicia, Hydrogen Valley Tarragona 
               Ricard Garcia Valls, EureCat/URV 
               María Molina, Repsol Hydrogen Direction 
               Julie Mougin, Hydrogen Europe Research 
               Miriam Díaz, Xarxa H2CAT
               Ruben Folgado and Jordi Soler, Messer Ibérica de Gases S.A.U.
               Lisa Titze, DeNora SpA
               Jordi Bacardit, DuPont Water Solutions
12.15 – Success stories: The Suner-C initiative
               Laura López, EU Projects at ICIQ
12.45 – Elsevier: Publishing and green hydrogen
               Giulia Moncelsi, Elsevier
               José María Andrés, Elsevier
13.00 – Matchmaking session + coffee
                An interactive session to catalyse collaboration between researchers
                SMEs, industries and policy-makers 
13.50 – Closing ceremony
               Emilio Palomares, ICIQ Director

If you would like to participate in this event, please, register
here
Organisers:

Sponsors: