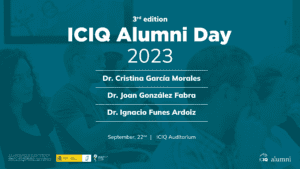 General Information
We are thrilled to announce the 3rd edition of ICIQ Alumni Day, which will be held at ICIQ's headquarters in September 22nd, 2023.
The objective of this event is to foster stronger connections among the members of the ICIQ community, providing a valuable opportunity to reunite and exchange experiences. Three ICIQ former members will give a talk about their personal and professional careers.
📅 September 22nd
📍 ICIQ headquarters / Online attendance via ZOOM
Programme
10.30 h – Welcome – Prof. Emilio Palomares, ICIQ Director
10.40 h – Dr. Joan González Fabra, Accredited Parliamentary Assistant at European Parliament (Brussels, Belgium) – ICIQ Alumni (October 2014 – October 2019. Group Prof. Carles Bo)
11.10 h – Dr. Cristina García Morales, Senior Scientist in AstraZeneca (Manchester, England) – ICIQ Alumi (October 2013 – May 2020. Group Prof. Antonio M. Echavarren)
11.40 h – Dr. Ignacio Funes Ardoiz, Junior Independent Researcher, Universidad de la Rioja (Logroño, Spain) – ICIQ Alumni (November 2013 – September 2018. Group Prof. Feliu Maseras)
12.10 h – Closing of the event
After Alumni event, the fun goes on! It's time to enjoy Tarragona's festa major, Santa Tecla! See the program here.
Registration
Please sign up here to attend in person at the auditorium.
If you would like to participate in the event in a virtual format, please register here on Zoom
Speakers
Dr. Joan González Fabra
Joan González Fabra graduated in Chemistry in 2010 at the Rovira i Virgili University. One year later, he got his Master's in Synthesis, Catalysis and Computational Design at the same university and in collaboration with the ICIQ, where he was a master's student. In 2018, he finished her PhD entitled "Computational Design of Catalysts for Carbon Dioxide Recycling" under the supervision of Prof. Carles Bo. After the PhD, he remained in the same research group as a postdoctoral researcher when he joined Puig as a Regulatory Affairs Technician. He was the compliance responsible for two top-leading brands of the group, such as Carolina Herrera and Jean Paul Gaultier.
In May 2021, he joined the European Parliament as an Accredited Parliamentary Assistant of an MEP, thus acting as his advisor in the Industry, Research and Energy committee. Later on, he took over the Economy and Monetary Affairs committee too. During these two years as an advisor, the European Parliament has approved the "Fit for 55" legislation package, a set of proposals to revise and update EU legislation to reduce net greenhouse gas emissions by at least 55% by 2030.
Dr. Cristina García Morales
Cristina received her B.Sc. in chemistry from Universidad de Huelva (Huelva, Spain) in 2013, including an Erasmus year at the University of Strathclyde (Glasgow, UK), and her M.Sc. from Universitat Rovira i Virgili (Tarragona, Spain) in 2014. She conducted her PhD Studies under the guidance of Prof. Antonio M. Echavarren at ICIQ (Tarragona, Spain). During this period, she carried out a short project at University of Michigan (Ann Arbor, Michigan, USA) under the supervision of Prof. Melanie S. Sandford. After gaining her PhD in 2019, she continued at ICIQ as a postdoctoral researcher. During her doctoral and postdoctoral studies, she worked on enantioselective Au(I) catalysis and the characterisation of highly reactive catalytic intermediates. Alongside experimental efforts, she gained expertise in DFT analyses, which she employed in deciphering Au- and Rh-catalysed transformations.
In September 2021, she joined AstraZeneca as a Senior Scientist in Physical Organic Chemistry as part of the Experimental Design and Modelling team. where she works on the development of predictive models to accelerate the design of robust processes through predictions and process understanding for API manufacturing. She is also involved in the upskilling of the wider organisation on kinetic modelling and on implementing working best practices to gather high quality data in our collaborations with CDMOs, both key focuses on AstraZeneca's journey to digitalisation.
Dr. Ignacio Funes Ardoiz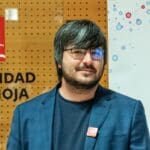 Ignacio Funes-Ardoiz was born and raised in Tudela (Spain). He studied Chemistry at the University of La Rioja from 2009 to 2013. Then, he moved to the Insitute of Chemical Research of Catalonia (ICIQ) in Tarragona, where he finished the Master degree and he joined Prof. Feliu Maseras group for the doctoral studies (2014-2017). In 2018, he received the Humboldt postdoctoral fellowship from the Alexander von Humbolt foundation and he worked in Prof. Franziska Schoenebeck group for 2 years. Finally, he came back to the University of La Rioja as a postdoctoral fellow to work in the Organic Photochemistry group (GRUFOR) lead by Dr. Diego Sampedro.
In 2021, Ignacio received the "Juan de la Cierva-Incorporación" fellowship to work in La Rioja and start his independent career. His research interests mainly focus in computational chemistry applied to organic photochemistry and organometallic catalysis, using DFT and Machine Learning methodology. He also participates actively in a variety of outreach activities and he teached Chemistry (Bachellor and Master courses) at the University of La Rioja. He has published more than 50 manuscripts in top journals (Science, JACS, ACIE) and has received several research awards such as Thieme Chemistry Journal, Sus-Chem and RSEQ postdoctoral awards.
Contact
Please contact Ms. Judit Martínez (jmartinez@iciq.es) for any question related.
__________
The ICIQ Alumni Day has received funding from the Spanish State Research Agency/Ministry of Science and Innovation (MCIN/AEI/10.13039/501100011033), through the ICIQ Severo Ochoa Excellence Program (CEX2019-000925-S,2020-2024)