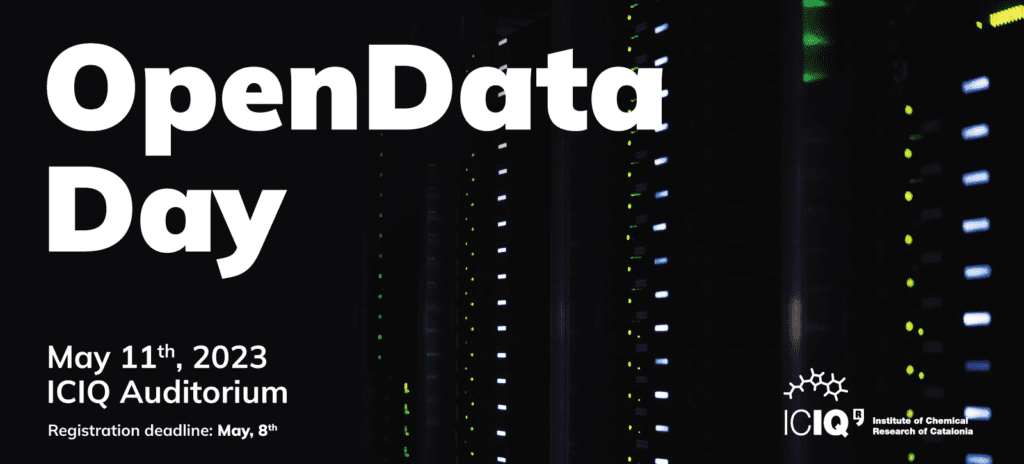 Welcome to the first edition of the OpenData Day organized at ICIQ. This exciting event is focused on exploring the benefits and possibilities of OpenData initiatives. Over the course of the day, we will be diving into a variety of topics related to OpenData, with sessions focused on institutional policies, OpenData initiatives, practical sessions and hands-on.
📅 May 11th
📍 ICIQ Auditorium
Program
Session 1: Institutional Policies
9.25 – 9.30 Welcome – Emilio Palomares, ICIQ Director
9.30 – 9.40 Roger Cabezas (CERCA)/GenCat: CERCA strategy for data management in CERCA institutes
9.40 – 9.50 Lluís Anglada (CSUC): FAIR data services for the Catalan research system
9.50 – 10.00 Carles Bo (ICIQ): Open-Data policies at ICIQ: ioChem-BD and beyond
10.00 – 10.45 Mercè Crosas (BSC):  Open and FAIR data infraestructures integrated with AI and computation 
Coffee Break
Session 2: OpenData Initiatives
11.15 – 11.45: Núria Raga (CSUC): Creating Data Management Plans with CORA.eiNA DMP
11.45 – 12.15: Moisés Àlvarez (ICIQ) –  ioChem-BD
12.15 – 12.45: Aleix Mariné (ICIQ) – eChemPad
Session 3: Practical Sessions + Hands-on
14.30 – 15.30: Manuel Galli (PerkinElmer) –online & Imma Escofet (ICIQ) – Signals e.notebook
15.30 – 16.30: Aleix Mariné (ICIQ) – eChemPad
16.30 – 17.30: Moisés Álvarez (ICIQ) – ioChem-BD*
* For this session, all the attendees must have their own laptops and eduroam wifi should be already installed.
Registration
If you would like to participate in this event, please register here (Deadline: May 8th)
Please contact Ms. Judit Martínez (jmartinez@iciq.es) for any question related.