Photoredox catalysis exploits visible light as energy source to carry out chemical reactions that involve electron transfer processes. On the one hand, implementing water as source of hydrogen equivalents for reductive organic transformations is essential from a sustainable perspective. In that direction, given that transition metal complexes are good candidates for the transference of hydrogen equivalents, metallaphotoredox catalysis is a promising platform to reduce functionalities such as double bonds.
In the present thesis, a dual photocatalytic system previously reported in our group to reduce aryl ketones using visible light as the driving force and H2O/amine as the hydride source has been used to reduce aryl olefins. The catalytic system involved a robust and well-defined cobalt complex with an aminopyridine ligand, and a copper photoredox catalyst. Furthermore, based on our mechanistic understanding, evaluation of other photosensitizers and conditions reached a dual Co/Ir system capable of selectively reducing styrene versus acetophenone and vice versa.
In parallel, we explored the asymmetric reduction of aromatic ketones in aqueous media by utilizing chiral-at-ligand cobalt complexes. By means of synthetic modifications in the chiral ligand, we found that the ortho-position of the pyridine ring must remain non-substituted, while the meta-substitution could positively affect chirality transfer.
Finally, in the main project of the thesis, we have revisited the photochemistry of [Ir(bpy)(ppy)2]PF6 as a model iridium photoredox catalyst. After the isolation and characterization of the reduced intermediate [Ir(bpy)(ppy)2]0, we found that it can catalyse reductive transformations up to –2.9 V vs SCE under irradiation. Furthermore, our theoretical and experimental mechanistic studies support that the reactivity comes from the reduced bipyridine ligand.
This thesis advances towards selective organic reductions using visible light as the driving force and H2O as a clean source of hydrides. In addition, it sheds light on the current mechanistic understanding of multiphoton photoredox cycles, disclosing the crucial role of bipyridine.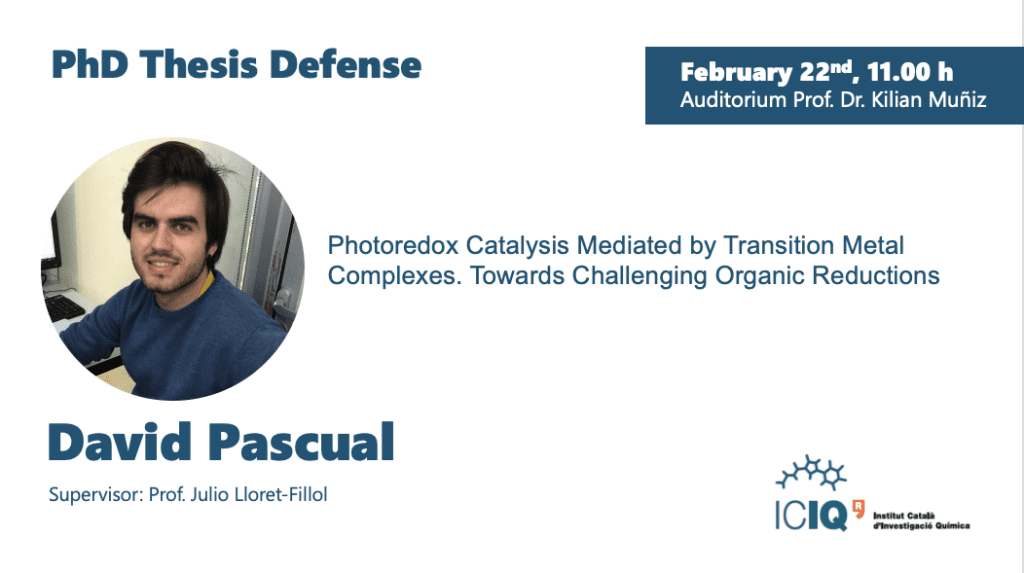 If you would like to follow the ceremony on Zoom, please register here.