With the increasing demand for sp3 architectures in drug development, new methods to construct sp3-carbon linkages have attracted significant attention from medicinal chemists. Metal-catalyzed cross-coupling reactions have offered innovative solutions to synthesize structurally diverse sp3-carbon scaffolds. However, forging sp3 C–C bonds by transition metal-catalysis still leaves ample room for further improvements. On the one hand, while the majority of cross-coupling reactions focus on the activation of carbon-heteroatom bonds or C–H bonds, general strategies based on the functionalization of particularly strong C–C bonds still remain elusive. On the other hand, despite the advances realized in 1,2-carboboration of π‐systems, transition metal-catalyzed construction of C(sp3)–C(sp3) bonds with alkyl halides as the source of sp3-carbon centers is still challenging.
To this end, our initial research focuses on the development of a dual catalytic strategy for forging sp2−sp3 and sp3−sp3 architectures via β-scission of aliphatic alcohol derivatives. Employing naturally abundant and commercially available aliphatic alcohols as building blocks, this methodology successfully offers an unconventional manifold for enabling sp3-arylation and sp3-alkylation events with excellent chemoselectivity and a broad application profile. Following our interest in such a topic, we then developed an efficient protocol for the conversion of structurally diverse feedstocks containing ketones, aldehydes, or alkenes to the corresponding trifluoromethylated analogues by aromatization-driven sp3 C–C cleavage. Finally, based on our group's previous work, we turned our attention to the 1,2-alkylboration of unsaturated systems with sp3 mono-organometallic reagents. We demonstrated Ni-catalyzed regio- and stereo-selective 1,2-alkylboration of allenes, opening up new avenues for accessing multisubstituted 1,3-(sp2, sp3)-bisorganometallic alkenes.
In conclusion, we have developed new methods for the synthesis of sp3 architectures via C−C bond cleavage and Ni-catalyzed 1,2-alkylboration strategies, which offer a complementary new blueprint for preparing densely functionalized, yet synthetically versatile, sp3 C−C bonds from simple and readily accessible precursors.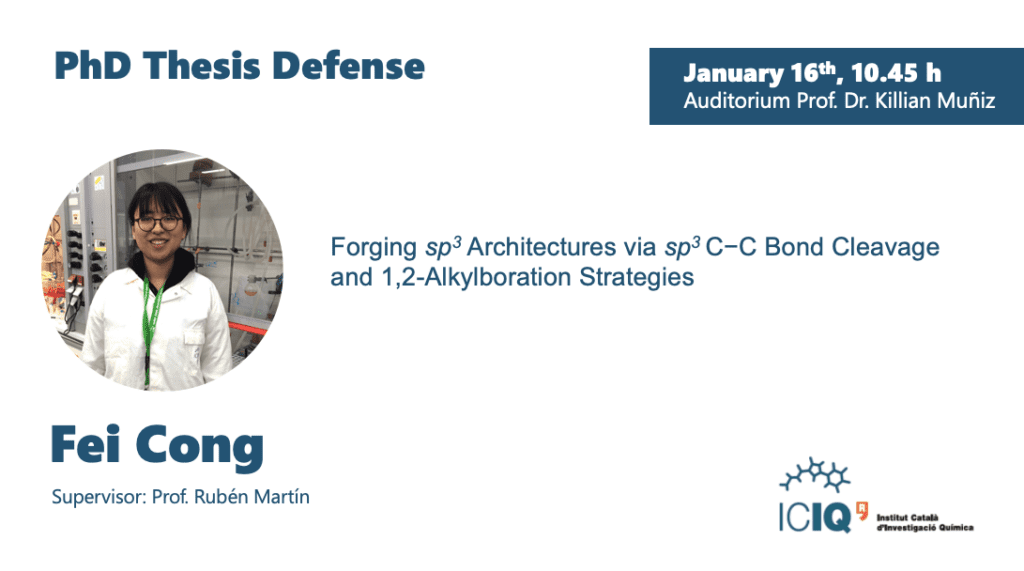 If you would like to join the ceremony online, please register on Zoom.