Metal-organic frameworks (MOFs) and covalent organic frameworks (COFs) are new porous materials that have attracted great attention due to their unique properties: high porosity, good chemical stability, well-ordered structures and remarkable structural tunability. Among their many possible applications, catalysis is one of the most promising due to the potential of MOFs and COFs to form single-site catalysts that are well-defined and remain accessible in the solid state. In this line of research, the current thesis aims to develop and study new MOF and COF-based catalysts for organic transformations.
The work presented in this thesis shows a simple method to immobilize photocatalytically active perylene ligands inside MOF-520, allowing this way to study the ligands as isolated units, and to employ the MOFs as heterogeneous photocatalysts for the reductive coupling of C=O and C=N bonds.
This thesis also describes the synthesis and characterization of a series of COFs bearing N-donor ligands in their structure. Incorporating cobalt centres into these structures resulted in MCOFs active as hydroboration and borylation catalysts. Finally, studies were performed to explore the single-site nature of the catalytic centers.
This work showcases the potential of MOFs and COFs as efficient and recyclable heterogeneous catalysts for organic transformations, and paves the way for the development of new single-site catalytic systems.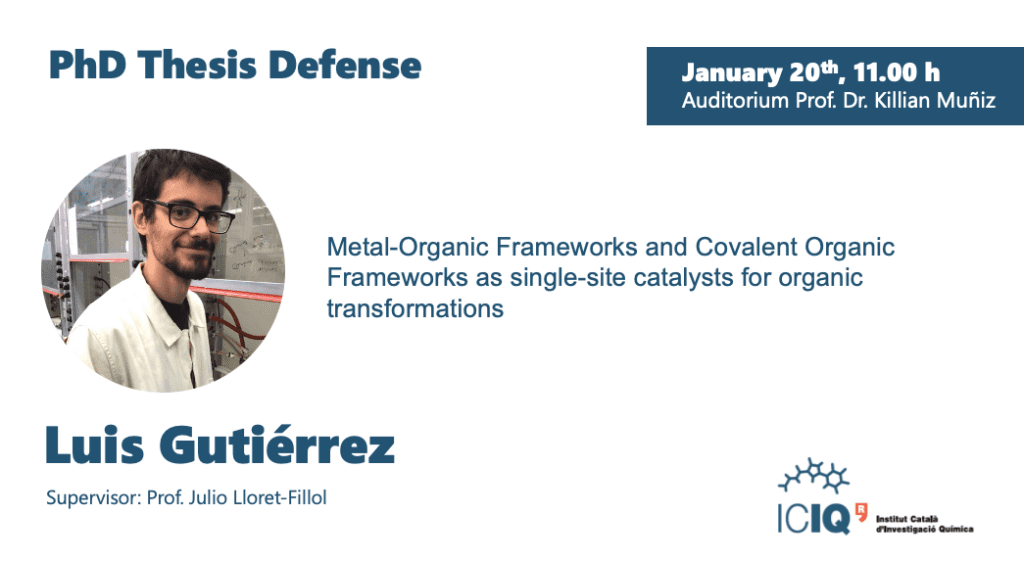 If you would like to follow the ceremony on Zoom, please register here.