📅 June 9th
📍 ICIQ Auditorium
Welcome to the First UCB Lecture Award, which will be held at ICIQ's auditorium in June 9th.
The UCB Lecture Award aims to distinguish oustanding scientists, which have been pioneers in areas of synthetic organic chemistry relevant to human health.
 
We are excited to announce that Prof. Matthew Gaunt is the first awardee in recognition of the variety and creativity of his research performed in homogeneous (photo)catalysis for the synthesis of biologically relevant small molecules, including natural products, synthesis-driven chemical biology and chemical technologies.
During the event, Dr. Teresa de Haro, from UCB Biopharma will also deliver a talk to present the company and one of their medicinal chemistry programmes.
After their presentations, we will host a Q&A session where attendees will have the opportunity to have discussions and scientific exchange between them and the invited speakers and share their own insights and curiosities in the field of innovation. We encourage all attendees to participate in this interactive discussion, which promises to be both informative and engaging.
Programme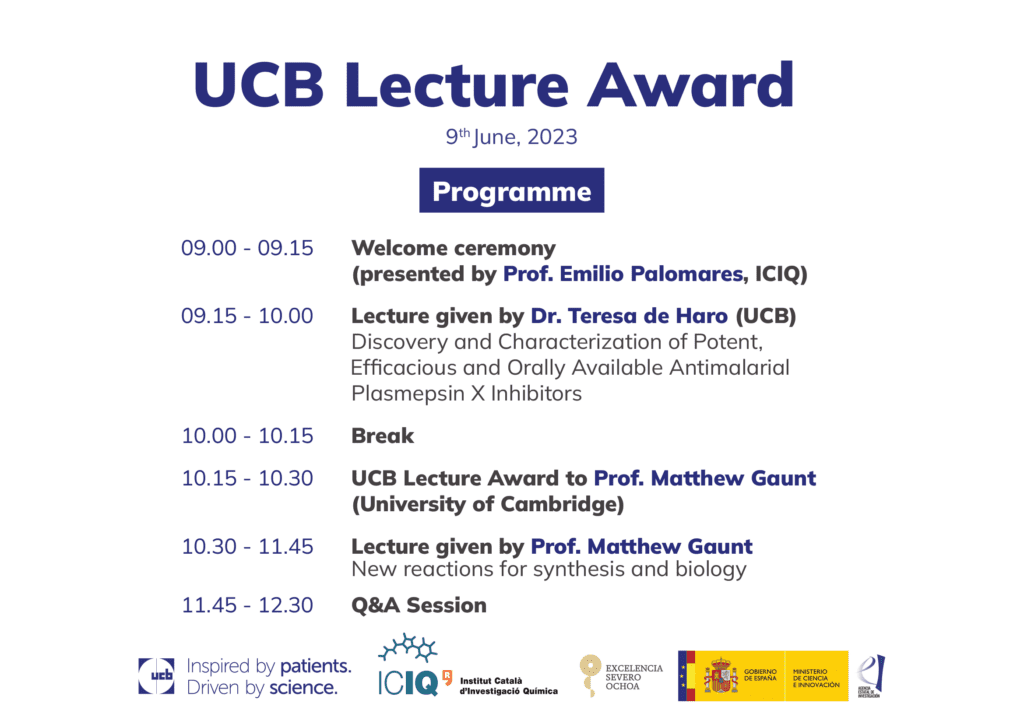 Abstract of Dr. Teresa de Haro's talk
Abstract of Prof. Matthew Gaunt's talk
Registration
Registration from ICIQ personnel is not needed
If you are not from ICIQ and you would like to participate in this event, please register here
Speakers
Dr. Teresa de Haro
Teresa de Haro received her M. Sc. Chemistry degree in Madrid (Spain) from Autónoma University in 2007. After a medicinal chemistry internship at Eli&Lilly (Madrid), she joined the lab of Prof. Nevado at the University of Zurich (Switzerland) where she completed her PhD in Organic Chemistry in 2012. Then, she joined the group of Prof. Fürstner at Max-Planck-Institute (Mülheim, Germany) studying total synthesis of natural products. In 2013 she joined Eli&Lilly in Surrey (UK) before moving to UCB in Slough (UK) in 2014. Teresa is currently working as principal scientist in the discovery of new drugs at UCB in Braine l'Alleud (Belgium).
Prof. Matthew Gaunt
Matthew Gaunt is 1702 Yusuf Hamied Professor of Chemistry and the Director of SynTech CDT at the University of Cambridge. He completed his PhD studies under the supervision of Dr Jonathan Spencer at the University of Cambridge as a Wellcome Trust Scholar in 1999. Matthew then moved to the University of Pennsylvania, undertaking research as a GlaxoWellcome Postdoctoral Fellow with Prof. Amos Smith. In 2001, he returned to Cambridge to work with Prof. Steven Ley as a British Ramsay Memorial Fellow and Junior Research Fellow at Magdalene College.
Matthew began his independent research career in 2003 at Cambridge, firstly as a Royal Society University Research Fellow, then as Lecturer in 2006, Reader in 2010, as Professor from 2012 and in his current position from 2019. His research focuses on synthetic organic chemistry through the discovery and development of new chemical reactivity concepts enabled by catalysts and is driven by programmes centred on metal-catalysed C–H bond activation, photoredox catalysis, selective chemical modification of biomolecules and high-throughput experimentation technologies for next generation synthesis.
Please contact Ms. Judit Martínez (jmartinez@iciq.es) for any question related.
This event has received funding from the Spanish State Research Agency/Ministry of Science and Innovation through the "Severo Ochoa" Centres of Excellence Program 2019 (CEX2019-000925-S, MCIN/AEI /10.13039/501100011033) and from UCB Biopharma