"Hydrogen Economy" is a most promising option to support the penetration and consolidation of renewable energy sources including wind, solar etc., as a clean alternative to fossil fuels. In addition, Proton Exchange Membrane (PEM) electrolysis is a commercially mature and sustainable technology for hydrogen production in acid but the lack of non-noble metal-based materials on both anode and cathode hinders its application in a large scale. Therefore, to search for efficient electrocatalysts for hydrogen evolution and oxygen evolution working in acid is of great importance and urgency.
Proton-rich surrounding is favorable for hydrogen evolution reaction on the cathode. We have firstly developed a new technique for creating a novel hybrid nanocomposite that includes POM nanoparticles on 2D MXene nanosheets. Representatively, as-prepared Co9-POM/Ti3C2 exhibits excellent HER electrocatalytic performance in 0.5 M H2SO4 solution with much higher activity compared with Ti3C2 MXene and good stability for a long time. It opens an avenue for designing a highly efficient and durable non-precious-metal HER electrocatalysts in acidic medium with unique heterostructures.
On the other hand, acidic oxygen evolution on the anode is a serious challenge for OER catalysts working under high potential, which leads to deactivation and dissolution. Both to keep the high activity of a catalyst and stabilize its performance in acid, we present a promising processing protocol, which combines in one single anode two powerful strategies: the incorporation of a nanostructured MOF-derived OER catalyst (Co3O4@C) from earth-abundant metals to maximize active surface area, and using a conducting, partially hydrophobic binder as the support made from paraffin oil and graphite powder for protection. This protocol delivers robust anodes that exhibit excellent acidic OER performances. Along with this viable and efficient strategy, an extensive survey of the activity and stability of monometallic, binary and ternary earth-abundant transition metal oxides based on earth abundant elements (Mn, Fe, Co, Ni, Zn) have also been conducted during electrocatalytic OER in strongly acidic conditions. Our results confirm the general validity of the strategy in using a partially hydrophobic electrode to confer high stability to common metal oxides under these harsh conditions and open an alternative venue towards fast, energy efficient acid-media water oxidation electrodes.
These comprehensive and interesting findings would be helpful in the exploitation of earth-abundant electrocatalysts for acidic water splitting.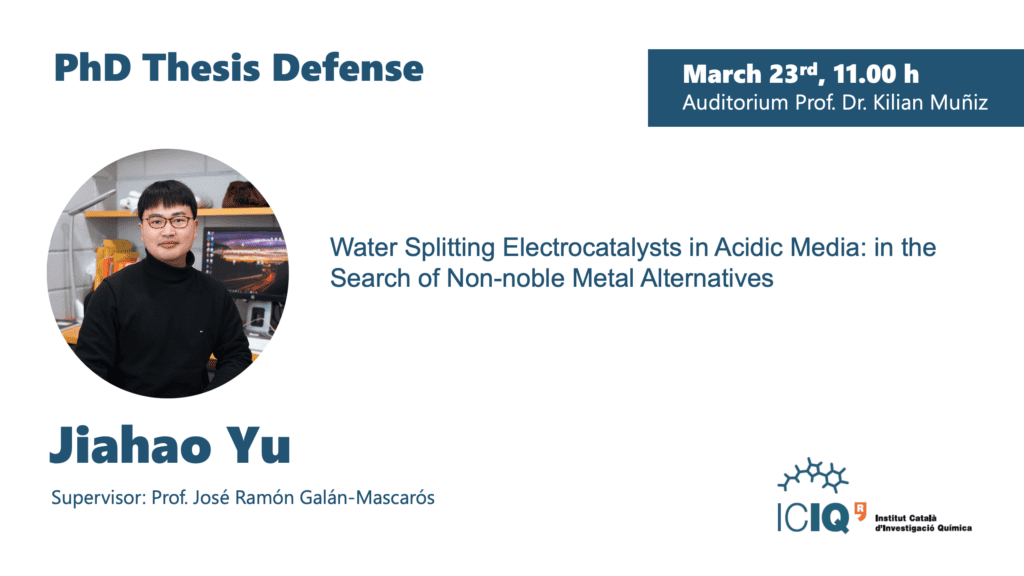 If you would like to follow the ceremony on Zoom, please register here.