The European industrial doctorate project VIRO-FLOW (Marie Sklodowska Curie programme – MSCA) has reached its ending and all three PhD students must defend their thesis! They spent half their PhDs (18 months) at the German Biotech company AiCuris GmbH, located within Bayer's site in Wuppertal (North Rhine Westphalia), and the other half at Ertflow's laboratory at ICIQ. Together, they moved forward the application of an integrated system including flow chemistry, microfluidics bioassay, and computational methods applied to drug discovery for the development of new treatments for Hepatitis B.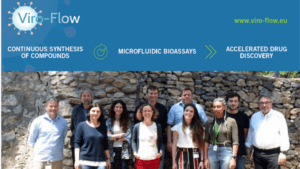 To celebrate VIRO-FLOW's successful conclusion, we interviewed the PhDs supervisor on the company side, to highlight the opportunities that industrial PhD projects bring to companies, and one of the PhD students to highlight the advantages for early-stage researchers.
Dr. Helmut Buschmann, Head of Chemistry at AiCuris Anti-Infective Cure
As a research-intensive company, what do EU-funded industrial PhD projects bring that you don't get from other research collaborations?
They allow us to explore new topics with reduced time pressure, either to obtain a broader insight into a specific research topic or in the application of new technologies. Based on the outcome they can be a starting point to a new relationship with an academic group. This impact is normally not available through other types of collaboration due to budget and time restrictions.
What were the highlights of the VIRO-FLOW project for you?
The Viro-Flow project allowed us to evaluate the use of flow chemistry in combination with biological testing on a chip. It was possible to adapt the flow chemistry for lead optimization and the coupling to microfluid technology for biological testing. As an exploratory side project, less important starting points were chosen, however, it resulted in a validated scaffold for further candidate profiling. Therefore, the project (involving three PhD students) was competitive to an industrial project scope with six chemists and two biologists over three years. In my opinion, this is an outstanding success and so far unique in my 30 years of R&D work in the pharmaceutical industry.
Mr. Tamás Vernés, PhD student within the Viro-Flow project
What made you decide to do an industrial PhD?
I was already considering a career in industry but I had no industrial experience. My university didn't teach us about the benefits and drawbacks of working in industry or academia. By spending half my PhD in industry and the other half in a research center, I wanted to gain the insight to make a decision based on my personal experience.
Having spent 18 months on each side, what are their strongest points for you?
For industry (Bayer's research facilities), the resources and equipment. On the academic side, the interaction with people working on a wide variety of projects, the scientific discussions… The industry has a much narrower focus.
Where do you see yourself after defending your thesis?
Actually, I already have a job.
Congratulations!
Thank you. I'm going to be a consultant, which for me is the combination of what I like on either side: The diversity and scientific discussions, backed by industry resources.
What would you say to any student considering an industrial PhD?
I would always recommend it! In addition to the experience you can add to your CV, it gives you great insight to decide about your future career.
VIRO-FLOW is the biggest industrial PhD project carried out at ICIQ to date. Other examples include two industrial PhD projects with pharmaceutical company F. Hoffmann – La Roche, and an ongoing industrial PhD with steel-producer Celsa Group, funded by AGAUR, among others.