Diamination reactions are often hard to catalyse because nitrogen atoms strongly coordinate to transition metals. However, vicinal diamines are valuable for the pharmaceutical industry, as they are important building blocks for the synthesis of various alkaloids and drugs.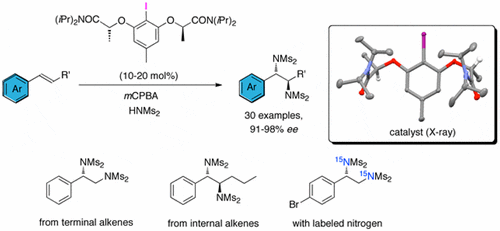 Now, the group of Prof. Kilian Muñiz discovered the first catalytic example for an asymmetric diamination of styrenes. Thanks to iodine(I/III) redox catalysis, our researchers achieved enantioselectivities of over 91% in 30 different examples.
Sustainability is key to this new method. Mainly because it does not require the use of expensive, toxic metals, but also because it uses catalytic amounts of the chiral iodine and clean, non-chlorinated solvents. The new conditions uncovered by Muñiz et al. reduce the amount of side products of the reaction, maximizing the yield of diamines over undesired epoxides and aminoalcohols.
This research was recently published in JACS and has been highlighted in Chemistry Views.
---
Reference:
Catalytic Asymmetric Diamination of Styrenes
K. Muñiz, L. Barreiro, R. Martín-Romero, C. Martínez.
J. Am. Chem. Soc. 2017, DOI: 10.1021/jacs.7b01443.