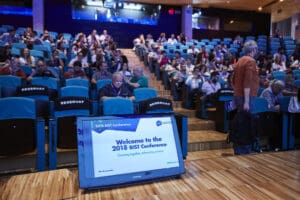 "We have the obligation to give our scientists the tools they need to do the best science, but also to have an effective impact on society. This means giving them access to the latest-generation technology, and also giving them multidisciplinary training that prepares them to lead research and promote industrial innovation or train future generations of scientists," stated Gabby Silberman, director general of the Barcelona Institute of Science and Technology, in his welcome address to more than 300 researchers attending the BIST annual conference on June 28, at CosmoCaixa (Barcelona).
The event's programme included a keynote speech by the 2017 Nobel Prize in Physics, Barry C. Barish, who presented the theory and technology behind measuring gravitational waves developed at LIGO; a series of "Dialogues on the boundaries of knowledge" on energy (chaired by ICIQ's group leader José Ramón Galán-Mascarós), biosensors (with the participation of Emilio Palomares, group leader at ICIQ) and tissue modelling and engineering; and a session presenting the projects from the Ignite Programme, through which BIST promotes the most disruptive interdisciplinary research. Among the projects presented were two collaborative projects between ICIQ and ICN2: SOLHYCAT (nanotechnology for catalysts for artificial photosynthesis) and INWOC (new catalysts for water hydrolysis and producing hydrogen).
The BIST conference came to an end with a closing speech by Marileen Dogterom (Delft University of Technology) on "Building a Synthetic Cell" and the closing remarks by BIST's board of trustees members Miquel Salmeron (University of California-Berkeley) and M. Carme Calderer (University of Minnesota, Twin Cities).
You can download the press release here