Estefanía del Castillo, PhD student under the supervision of Prof. Kilian Muñiz (ICIQ) & Prof. Antonio M. Echavarren (ICIQ), has virtually defended her PhD thesis entitled "Applications of the Hofmann-Löffler Reaction for C-H Functionalization in Total Synthesis" (assigned to the Analytical and Organic Chemistry Department of the Universitat Rovira i Virgili) publicly on December 10th.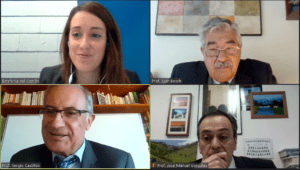 The members of the evaluation committee were: Prof. Joan Bosch (Universidad de Barcelona), Prof. Sergio Castillón (URV) and Prof. José Manuel González (Universidad de Oviedo).
Dr. del Castillo is from Madrid, Spain. She obtained her degree in Chemistry and her Master's in Organic Chemistry in the Universidad Complutense de Madrid. In 2016 she began her PhD at ICIQ. One of her favourite hobbies is cooking – and creating new recipes. Also, she likes photography, dancing, reading, and petting animals.
Why did you become a scientist? What would you want to achieve as a scientist?
All my life I have been interested in understanding how things happen and how they can be improved. That's why I love science, it has the purpose of improving and advancing our knowledge, something I consider fundamental.
From the lessons learnt at ICIQ, which one do you value the most?
The group seminars. I have learned a lot from them, and although at first, it seemed somewhat stressful, it was something incredibly positive and that I value a lot. Also, ICIQ offers international seminars almost every week, giving us a chance to learn about totally different types of chemistry.
What ICIQ moment you´ll never forget?
Well, I would say that I have many, so it is very difficult to choose. I think that the institute and the people who are part of it have made my doctorate special.
What do you wish you had known at the beginning of your PhD? What advice do you have for someone who's starting their PhD now?
I would have liked to know that the doctorate is not a race to arrive first but to arrive, you must save your strength for the entire doctorate without losing motivation.
My advice would be to be patient, there are bad as well as very good moments. Everything passes, and you need to keep trying.
Where are you going next? What will you do there?
Now I am looking for a job, I would like a position in Industry.
If you were a piece of lab equipment, what would you be?
I would choose to be the LEDs from the laboratory. They were essential in all my projects and in the most special reactions, if that worked, it meant there was a project to follow.