Jiahao Yu, PhD student under the supervision of Prof. José Ramón Galán-Mascarós (ICIQ), has defended his PhD thesis entitled "Water Splitting Electrocatalysts in Acidic Media: in the Search of Non-noble Metal Alternatives" (assigned to the Inorganic and Physical Chemistry Department of the Universitat Rovira i Virgili) publicly on March 23rd.
The members of the evaluation committee were Prof. Wen Tian Fu (Leiden University, The Netherlands), Dr. Bahareh Khezri (Universitat Rovira i Virgili, Spain) and Prof. Claudio Ampelli (Università degli Studi di Messina, Italy).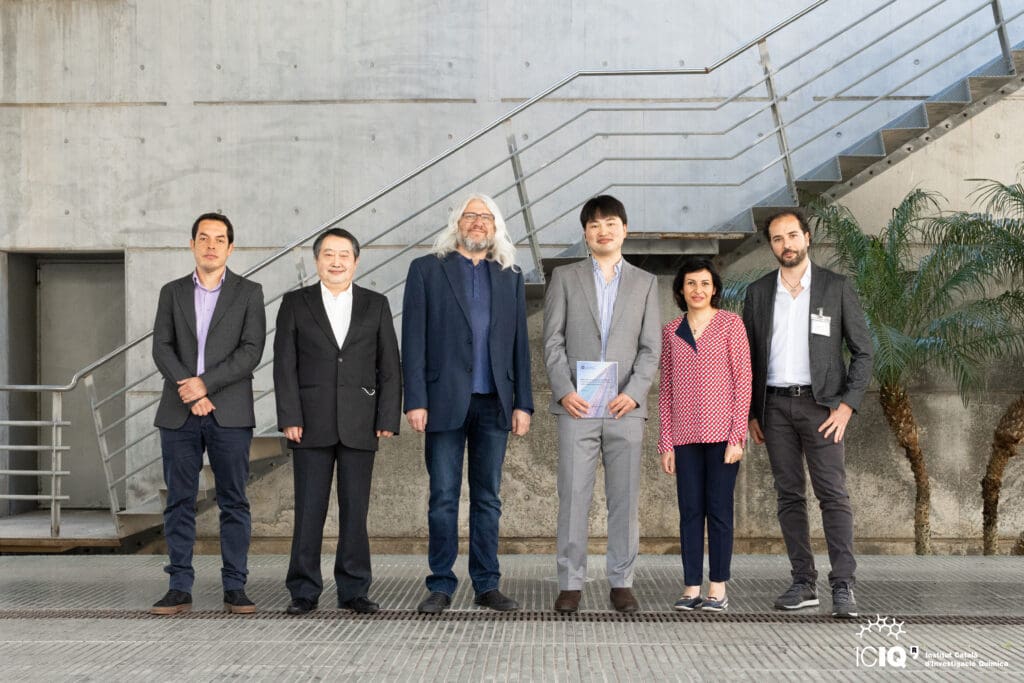 Dr. Yu is from Wuhan, a city of "thousands of lakes" which is located at the center of China and has the most important transportation hub.
After 3-year master study in Wuhan University, he continued his research career on electrochemistry in ICIQ where he has met as amazing people as those in Wuhan.
He likes playing basketball, watching films, and especially photographing which drives him to explore a variety of places under his feet and perceive diverse cultures.
Why did you become a scientist?
Science is really interesting, especially, chemistry is one subject to create new things and access to the truth. I want to thank the teachers of chemistry in my secondary and high schools who introduced this fantastic world to me. In addition, I am so excited to be contributing to the progress of "Hydrogen economy".
What do you want to achieve as a scientist?
To develop and commercialize a catalyst for acidic oxygen evolution to replace the current usage of Iridium in the anode of proton exchange membrane electrolyzer for hydrogen production.
What is your thesis about?
It's about the designs, fabrications and understandings of non-noble metal-based electrocatalysts on the anode and cathode, respectively, for acidic water splitting.
What triggered your interest for the subject of your thesis?
Acidic oxygen evolution electrolysis using earth-abundant elements has challenged academia and industry since long time ago. Besides, I have been much experienced in electrocatalytic oxygen evolution in alkaline media. So, it was the time to me.
What applications can your thesis have in the future?
Low-cost proton exchange membrane electrolyzer for hydrogen production.
The thing that I like most about my thesis is….
To mainly focus on the topic of acidic oxygen evolution and deepen my understanding continuously even though I find 0.001‰ chance for myself to change the world temporarily.
From the lessons learnt (or skills developed) at ICIQ, which one do you value the most?
Both to better cooperate with the scientist from diverse backgrounds and to be more patient in helping others, are valuable a lot!
What ICIQ moment you´ll never forget?
The pizza time organized by my dear supervisor JR after every group meeting.
What will you miss the most from ICIQ?
The nice persons from different departments and the moments we enjoyed together.
What advice do you have for someone who's starting their PhD now?
To spend enough time on knowing your colleagues well, and then think what you can learn from them and what you can help with them.
Where are you going next? What will you do there?
To stay in the same group as a postdoc and continue our excellent works on electrocatalysis with my group members and other collaborators.
What is your favourite molecule?
H2O
If you were a piece of lab equipment, what would you be?
Reference electrode
Tell us something about you that people might not know…
I dance very well even I never learnt!