Adriana Faraone, PhD student under the supervision of Prof. Paolo Melchiorre (ICIQ), has defended hes PhD thesis entitled "New reactions in metal-based and enzymatic catalysis" (assigned to the Organic and Analytical Chemistry Department of the Universitat Rovira i Virgili) publicly on January 10th.
The members of the evaluation committee were Prof. José Alemán Lara (Universidad Autónoma de Madrid), Prof. Arjan W.  Kleij (ICIQ) and Prof. Dr. Francesca Paradisi (Universität Bern).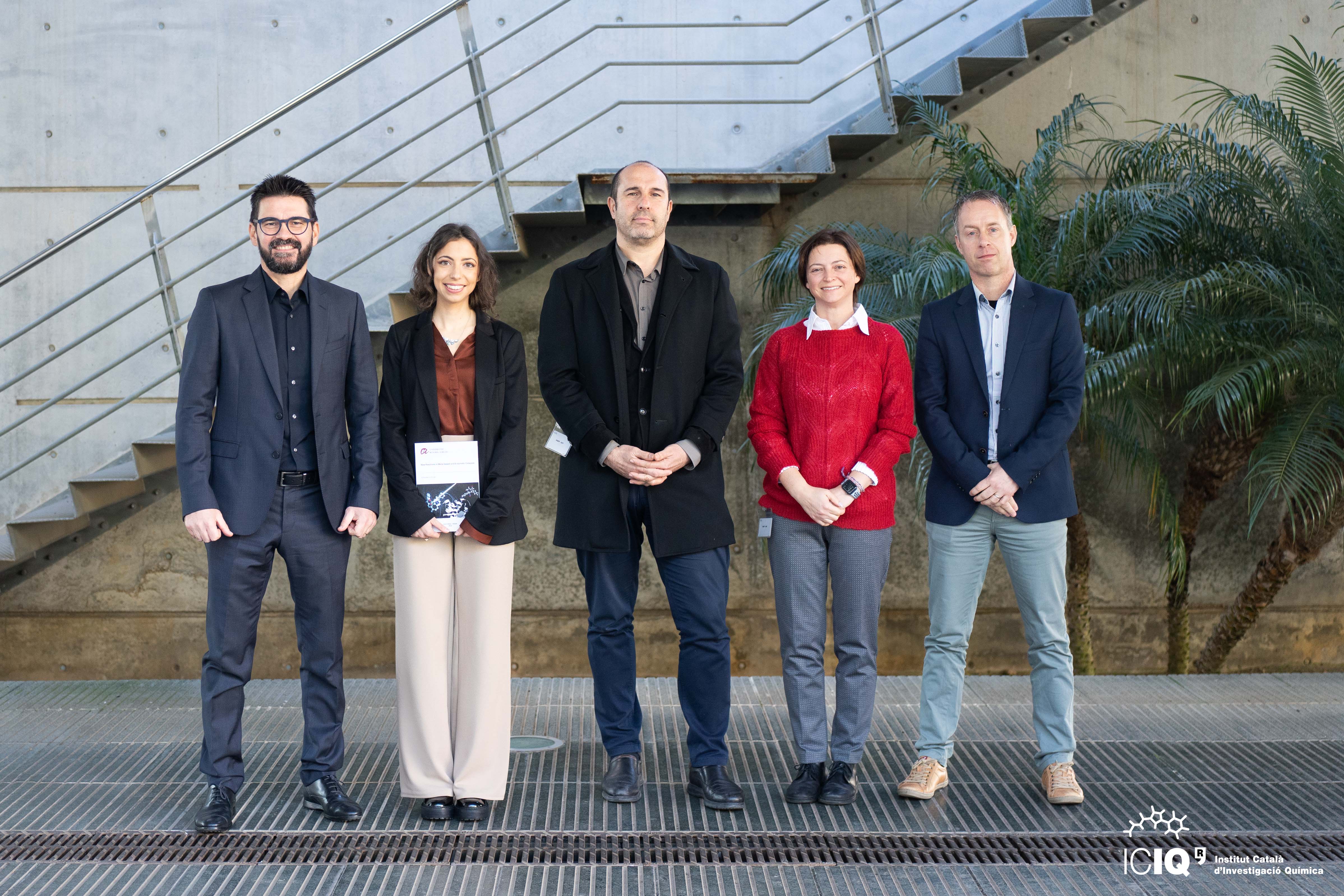 Dr. Faraone with her thesis supervisor and the members of the evaluation committee
Dr. Adriana Faraone is from Palermo, Sicily, in the south of Italy. She studied her Bachelor in Chemistry in Palermo University, then she moved to Bologna University in the north of Italy to study a Master in Organic Chemistry.
She speaks Italian, English and Spanish, and is willing to learn other languages.
Her main hobby is bookbinding, handmade notebooks, for which she has an Instagram account and post pics there. She also does some hiking and likes mountain, specially the via ferrata in Catalunya, a great discovery during her PhD and loves it.
She received a FPU Fellowship, for which she also had to teach in URV.
Why did you become a scientist?
My choice to study chemistry was driven by the curiosity of how matter works on a microscopic level and how this affects our perception of things on a macroscopic level, why we see the things around with their colors, or for example why they have certain smells. And by the satisfaction that one has when he/she arrives to a better understanding of even a very small thing and how it works. That nice feeling when you understand a certain mechanism of action of something is really what pushes me forward.
What do you want to achieve as a scientist?
I am realistic and I do not expect to change society with my research. I would be happy with even a very small discovery in the future that might be not of immediate impact for the community but would make me satisfied of having understood something completely by myself.
What is your thesis about?
In my thesis I show how light irradiation (photochemistry) or enzymes (biocatalysis) are re-discovered as tools for finding new reactions and making molecules in new ways and with high selectivity.
What triggered your interest for the subject of your thesis?
Both biocatalysis and photocatalysis are old and fascinating research fields which nowadays are benefitting of new technologies and for this reason, they are constantly re-innovated and re-purposed. I believe there is much more that can be discovered in these fields as technology progresses.
What applications can your thesis have in the future?
My thesis is about finding new methodologies to make molecules in a selective way. It is fundamental research with potential application in the future: for example organic synthesis on an industrial level always can benefit from such fundamental research.
The thing that I like most about my thesis is…. 
What I like the most of my thesis is that in these 4 years I did not focus on one topic only, which would be boring for me. I like the variety of the topics, the diversity of the two different projects that are really unrelated. This allowed me to learn from very different fields, which I enjoyed a lot. For example, I would never expect at the beginning of my PhD to start learning again biology and work with bacteria, since I am a chemist. However, this was a nice surprise along my studies to move to this completely new research topic.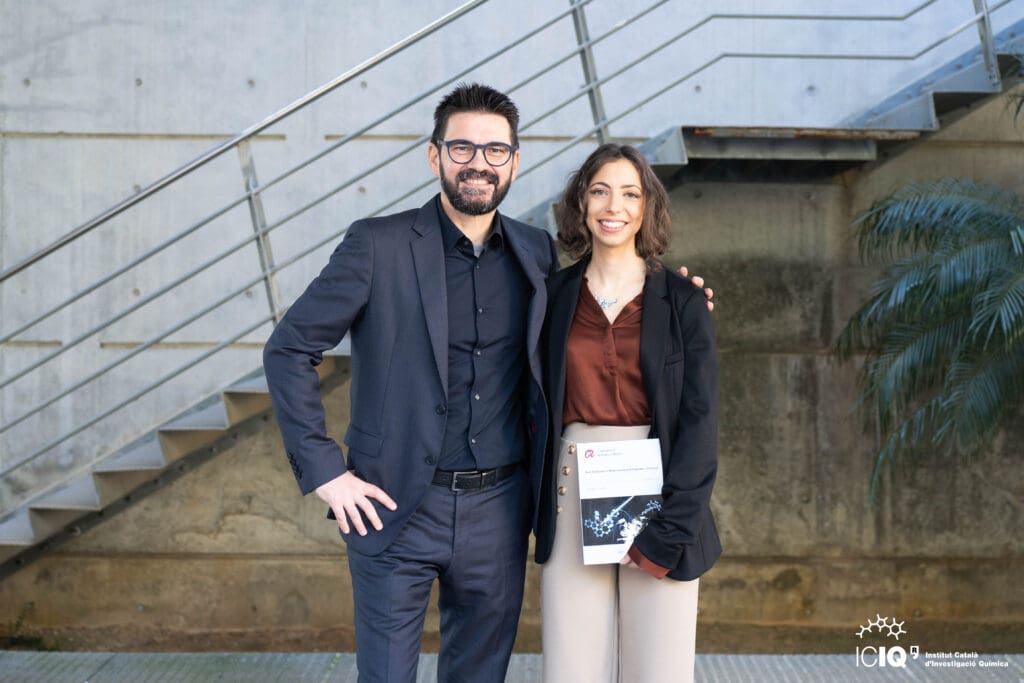 From the lessons learnt (or skills developed) at ICIQ, which one do you value the most?
Among the skills, I think adaptability is the one I value the most.
What will you miss the most from ICIQ?
I will miss the multicultural but also friendly and welcoming environment: It really feels like home some days!
What do you wish you had known at the beginning of your PhD?
To know how to stop comparing myself to the others around me.
What advice do you have for someone who's starting their PhD now?
Never compare yourself to the others: you are unique, and your path is necessarily different than the one of the people around you. They might seem smarter or better than you at the beginning, but this is a distortion of reality. The reality is that you are following your path of self-growing and you are there to acquire more experience, and you will get there at one point and you will learn with your time. Wishing to be like the others is not the right way of thinking! Be yourself always and take the time you need to learn!
From your experience at ICIQ, what do you think we can improve?
I think the working schedule in research should be a little bit more flexible. For example, in the life of a researcher it might happen that one day an experiment is taking several hours and she or he needs to stay longer at work, whereas some days only computer working is needed and sometimes it might be more productive to work from home.
Have you ever been emotional over an experiment/simulation? Why?
I suppose so and that happened especially during the time I spent (several months) in which I was not getting results for any possible working project and I was a bit lost on how to go on with my PhD.
Who/What has been your biggest influence/motivation?
My motivation was most of the time the idea that I would grow stronger after each failure or bad experience.
Where are you going next? What will you do there?
I will stay in ICIQ for a postdoctoral research period for 10 months more, then I will move to Switzerland for a second postdoctoral period, and after that I would like to move to industry.
Chemistry/Science is fun because…
…Is crazy!
If you were a piece of lab equipment, what would you be?
The distillation apparatus: I like the idea of distilling out of a messy mixture only the valuable and precious ingredient. As well as there are always good things to distill out of the bad things in life.
Tell us something about you that people might not know… 
I hate Queen, the band. Ahahah