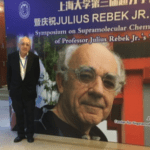 Julius Rebek Jr. was born in Beregszasz (Ukraine, which was part of Hungary at the time). His family emigrated to the United States in 1949 and settled in Topeka, Kansas, where he received his bachelor degree in Chemistry from the University of Kansas. He then joined D.S. Kemp's laboratory at the Massachusetts Institute of Technology to study peptides and obtained his PhD in Organic Chemistry. Over the years, he has worked at University of California at Los Angeles (1970–1976), the University of Pittsburgh (1976–1989), the Massachusetts Institute of Technology (1989–1996) and The Scripps Research Institute (since 1996). During his career he has worked on different areas of chemistry, from developing the three-phase test for reactive intermediates, synthetic allosteric receptors, molecular recognition, self-assembling capsules – in collaboration with former ICIQ group Leader Javier de Mendoza –, self-replication, molecular machines, sensors and antidotes for chemical warfare agents and protein surface mimetics, among others. Rebek has been involved with ICIQ from before the building was created – Miquel A. Pericàs and architect Javier San José visited the Scripps Research Institute to get ideas for ICIQ's building. He's been part of ICIQ's Scientific Advisory Board since the institute's creation in 2001 until his retirement this year.
Why did you become a scientist? What goals did you have as a scientist?
When I was in high school, every summer I worked as a house painter with my father, who was a painter in Topeka, Kansas (USA) – I didn't really like it to be honest. One day, my organic chemistry teacher came to me and asked if I'd want to spend the summer working in his lab. It didn't take me long to decide whether I'd like to work painting houses or in an air-conditioned laboratory. So, that's how I became a chemist. If my biology teacher had come to me, I'd probably be something else – I was looking for a quick way out of the painting business. As a scientist I didn't have a goal; I just needed to be different. Growing up in Kansas in a Hungarian family it was hard to assimilate; most of my life I've never felt at home or part of anything. Like in this meeting – later, when we have a drink, I'll be on the edges, not in the middle of the room. In science I have done the same, I've been on the edge. If you feel comfortable there it's a good place to work: it's where discoveries happen.
What did you enjoy the most about your job?
I've never been a good teacher of large undergraduate groups, but I'm pretty good at helping people become professors. I have about 75 or 80 former research group students who have become professors all over the world. That is what I do and from where I get satisfaction. For sure, that's my greatest achievement, those are the people who will continue my work. Some think that writing papers is what we do, but our product as academics is educated people.
Tell me a funny anecdote:
I don't know if it will be funny to you, but strange things happen. People tell you "you are wrong" and a few years later they come and tell you "you were right."
Tell me about a time you failed:
Many times! I've failed to solve problems that are a wonder to some. Like making some kind of molecule: it's always in your head and you keep thinking about that problem. But since it's a basic science problem, rather than a practical problem like curing cancer, it's not a tragedy that I failed. It's just a personal tragedy, at least that's the way I feel about it.
Could you give a piece of advice to young researchers who want to become excellent researchers in their fields?
I would tell them to stay on the edge, on the outer edges where you can work alone and discover something. Some people prefer to be in the middle surrounded by other people that are doing the same things because they feel comfortable. I think it depends on your personality if you are a social person maybe it's better to be in the middle, but if you are a foreigner, then go to the edges.
What is, to your opinion, the next big thing in science that we should be spending money on right now?
Adaptation to climate change. I don't think we should question if it's happening or not, the question is how do we deal with it? That's what I would encourage people to do. I think it's very wise of ICIQ to do sustainable chemistry, how to manage what's left of petroleum feedstocks and how to use what we know about consumption to build better cities, those are really important things. I know physicists think we should discover even smaller particles or a star that's even further away – and I think that's perfectly OK – but I would encourage people to take on problems that may help the future of humanity in more immediate ways.
We see many women studying science at University including at PhD level; however, we do not see that many women working as researchers or academics. What do you think should be done to solve this?
That happened to a lot of people in my research group. The best student I had, she started a career in research and now she's translating patents –several other of my former students are now in publishing or business school. I don't know how to avoid this… I think everyone wants to avoid it but it's still happening. Biology – I work in a biomedical research center – doesn't seem to have this problem, there're as many female professors as males, while in chemistry…. I don't know. It seems like working in an academic chemistry department is brutal and maybe we should make it a little more humane for everybody – not just the women. Maybe we should require men who have families to take time off to be with them. I don't have any answers, it's a difficult question.
If I went to La Jolla, what should I visit?
The Scripps Institute, I would explain the architecture of the institute and the place that I look out my office window to the golf club where every year Tiger Woods and many other golfers come to play. Just beyond the golf course, there's the ocean and people paragliding – it's like they are floating around in the air. By large, La Jolla is a place for retired people, but it has the Salk Institute, UC San Diego, Scripps Research and very good biotechnology spin-offs from those institutes – I hope ICIQ will also catalyze the formation of new companies.
ICIQ Questionnaire:
 A chemical element: uranium. Trying to get uranium out of the ocean is a big scientific challenge.
Favourite scientist: I guess I don't have one.
Favourite invention: invention is for applied sciences, and my research is not like that. I don't invent people, but as I said, my product is educated people, so my favourite invention is the many professors I have helped to develop professionally around the world: like Pablo Ballester, he's one of my inventions.
If you hadn't been a scientist… I wouldn't have been a house painter, that's for sure. My parents wanted me to be a doctor because as immigrants they were always nervous that another war would come, so a universal trade like medicine was their idea of a safe job.
Favourite destination: I like London, but my wife likes Paris, so we go to Paris. We go several times a year, we've just spent a couple of weeks there. I don't speak French but Paris is fine.
A book: I like fiction, I read novels by people like David Mitchell, Martin Amis, or T. C. Boyle, modern fiction writers who are alive now. If I had to pick a book it would be "Cloud Atlas" – it was a lousy film but the book is great.
A movie: my favourite is Blade Runner, the original. I've seen it many times and each time I watch it I find something new. The last time I saw it, I noticed that in a couple of scenes there's someone in the background speaking – actually, saying obscene things – in Hungarian.
A dream: I have a constant nightmare where I try to find my office and I'm on the wrong floor, it's a disturbing thing. Maybe it's because I've moved around so much, Pittsburgh, Boston, California, Shanghai, maybe I'm trying to find the perfect laboratory or home.
Science is… a way of satisfying my need to do something challenging.