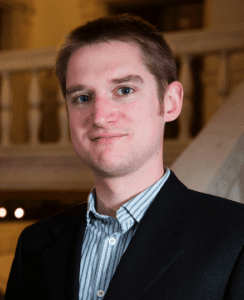 Robert J. Phipps  studied Chemistry at Imperial College London in 2006 and then moved to the University of Cambridge to complete his PhD (2010) with Prof. Matthew Gaunt on the development of new copper-catalysed arylation reactions. Since then, he has worked at the University of California, Berkeley on a Marie Curie Postdoctoral Fellowship with Prof. F. Dean Toste in the area of asymmetric fluorination using chiral phosphoric acid catalysts. In 2014 he was awarded a Royal Society University Research Fellowship, which allowed him to commence independent research from October 2014 at University of Cambridge. His group develops new methods in synthetic chemistry, ​ focusing on incorporating non-covalent interactions into catalyst structure to exert control over various aspects of selectivity in chemical reactions, such as regioselectivity, site-selectivity, and enantioselectivity.
How did you decide to become a scientist?
It was a natural progression: I always enjoyed chemistry at school and I found it a subject that came naturally to me. So, I just followed that through university and thought that if I had enjoyed it and did well, I should carry on doing… I'm still seeing how far I can get with it!
What do you enjoy the most about your job?
Working with students and coworkers, who are as excited as I am by what they are doing. In the best sense, I don't have to motivate them anymore, because they are already so self-motivated – that's great!
Which are the greatest achievements in your career so far?
Being able to establish a group of students and colleagues who are very excited about what they are doing. If 10 years ago someone had told me I'd be responsible for managing people now, I would have been very nervous about how I would organize that. But things have worked out well and I think my group has a really good dynamic.
Could you tell me about a funny anecdote?
We do secret Santa presents in the group. For my present, someone had very cleverly taken a Star Wars poster and modified all the characters in it to include group members who had been involved in a recent paper, the film title was amended to "Revenge of the Minisci". It was very nice and have now framed it at home!
Could you give a piece of advice to young researchers who want to become excellent researchers in their fields?
Don't be too afraid that your ideas are going to fail, because if you were sure they are going to work, it probably wouldn't be as exciting as it is. Failure is ok when you try new things and they don't work, you need to keep on trying until they do.
From your point of view, what are the most important areas in which funding should be spent on? What´s next?
I'm massively biased to organic chemistry. More seriously now, what I think will be important in some years – or at least people are throwing money at it – is Artificial Intelligence. I'm not sure if it's hyped or not, but I think it's quite obvious it will have a big impact.
We see many women studying chemistry at University including at PhD level; however, we do not see that many women working as researchers or academics. What are you doing to close this gap?
I'm trying to make sure that my group is balanced, or as much as it can be. I know that the origin of this gap is being intensely debated and how everyone can do something about it – which I think is very important. I, for one, I'm making sure my group retains the balance because ultimately, I'm responsible for recruiting. I'm trying to have the most balanced group as I can with the incoming applicants.
What do you do in your spare time (if you have any)?
I spend time with my family. Last year we bought a house, so I've spent quite a bit of time doing some renovations to the house – although it's finished now, thankfully!
If I went to Cambridge, what should I visit?
It's a really nice city with beautiful colleges and so on. People go punting in the river – like a gondola, but without singing – it's really nice.
ICIQ QUESTIONNAIRE
A chemical element: Boron
Favourite scientist: I don't have one
Your favourite invention: the car
If you had not been scientist… I don't know, so many paths in life merging, it's a mystery. I don't have the answer to that
Favourite destination: Malaysia, because I'm travelling there with my family very soon
A book: The Hunt of the Red October, by Tom Clancy
A movie: Police Story, a classic Jackie Chan film
A dream: I don't have one to share
Science is… exciting