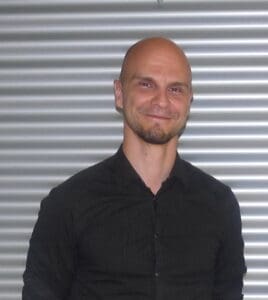 Chem is a new chemistry journal from Cell Press aimed at publishing works from across the chemical sciences and at the interfaces between chemistry and other disciplines. Dr. Vjekoslav Dekaris, scientific editor of Chem, was at ICIQ last July, 8th, to present the journal. That day we had the occasion to interview him for our Face to Face section
-When and why did you decide to change the lab for the desk?
In the lab environment you have to work very hard, which is not a problem. But what I found tough was that the effort didn't always get rewarded appropriately. This is hard to accept for me; when I put effort into something I like to have an equivalent amount of outcome. Obviously, this is impossible to guarantee in research, and that's why I decided maybe it was better to do something else.
-What do you like and enjoy the most in your job as a scientific editor?
I can do professionally what I have always liked that is reading scientific papers. Another intriguing part is that I get to talk to all the top scientists, which I wasn't able to do before. I mean, I went to scientific conferences when I was a PhD student and a postdoc, but usually you don't have the chance to directly interact with top scientists. Now I can meet them and talk about their research frequently. That's exciting!
-What is the novelty that Chem will bring to the field of publications in Chemistry?
As with other big journals, we want to publish top quality fundamental science first. This is our bread and butter. But we also want chemistry to get the recognition it deserves as a 'force for good', especially within the public. Our ambition therefore, is to showcase how major breakthroughs in fundamental chemistry research may impact on society in the future. We want our articles to be picked up by regular media, and maybe even make the non-scientist become interested in chemistry. That would be the ideal scenario.
– How will Chem address the issue of Open Access?
All content published in the first six issues of Chem will be free to all for in perpetuity. In 2017, Chem will follow the standard Cell Press rules for Open Access. A Gold option is available to those scientists mandated to publish OA, through a payment, with immediate access. Cell Press also offers full access to the final version, after a 12 month embargo without charge.
-What are the main challenges facing chemists and chemistry nowadays?
The competition is getting harder and the number of publications is growing constantly. So, receiving funding for research has become more difficult. As a consequence, very fundamental research is maybe hard to establish because there is no apparent link to applications.
-What do you do in your spare time?
I like travelling a lot. Also hiking and being in nature when I get the chance. I also like to spend time with family.
PROUST QUESTIONNAIRE
A chemical element: Samarium.
Favourite scientist: Herbert C. Brown.
Your favourite invention: Airplanes.
If you had not been scientist… football player.
Favourite destination: Barcelona.
A book: "A farewell to arms".
A movie: "Gladiator".
A dream: Chem being the best chemistry journal out there.
Science is… Exciting.