Otilia Stoica, PhD student under the supervision of Prof. Echavarren (ICIQ), has defended her PhD thesis entitled "Synthesis of Large Hydroacenes and Related Compounds Using Gold(I) Catalysis" (assigned to the Department of Analytical and Organic Chemistry of the Universitat Rovira i Virgili) publicly on March 25th.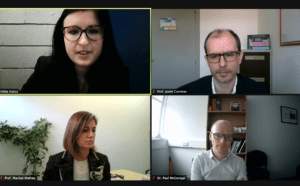 The members of the evaluation committee were Prof. Maribel Matheu (URV), Prof. Javier Carreras Pérez (Universidad de Alcala de Henares) and Prof. Paul McGonigal (University of Durham).
Dr. Stoica is from Galati, a city in the eastern part of Romania. In 2016 she obtained her joint master's degree in Medicinal and Biological Chemistry at the University of Edinburgh. Her first contact with Catalonia was during an Erasmus year at URV she did during her master's degree. In 2016 she began her PhD in the Echavarren group, where she obtained an FI grant given by the Agència de Gestió d'Ajuts Universitaris i de Recerca (AGAUR). She enjoys travelling and taking photographs.
Why did you become a scientist?
In high school I had a teacher that was passionate about organic chemistry – it was contagious! I discovered organic chemistry and I liked to learn how molecules can be used for medicine.
What do you want to achieve as a scientist?
I would like to be part of a team that works to discover molecules with biological activities, such as anti-cancer treatments, and work on their synthesis.
From the lessons learnt at ICIQ, which one do you value the most?
The group seminars were awesome as well as the other lectures because you could learn about different chemistry fields. However, I value the most the teamwork and the knowledge exchange with my supervisor and lab mates, as they know so many things from various fields and they helped me a lot to be the scientist I am now. Each of us is skilled in different areas and it was great to share and help each other.
What ICIQ moment you´ll never forget?
There were many beautiful moments, but I remember especially the first Christmas Lunch with the group because we went to a wine cellar and a chocolate factory, it was so much fun.
What will you miss the most from ICIQ?
For sure, I will miss the amazing people I met at ICIQ, as they turned into close friends. We shared a lot of beautiful moments every day and I am thankful for all the conversations and the good atmosphere in the lab.
Who has been your biggest motivation?
Clearly my supervisor and my colleagues. They encouraged me to continue when I had bad days and reminded me that my thesis had a good purpose. They made me feel that my work is valuable.
If you were a piece of lab equipment, what would you be?
I would like to be a CombiFlash apparatus because I would be able to experience the process of purification from the inside and select the products that I find important. Also, this equipment saved me so much time during my PhD.
What is your favourite molecule?
My favourite molecule is caffeine because without coffee I couldn't have finished my thesis!