ICIQ hosts the first meeting of the PhD Students participating in the PHOTOTRAIN ITN Network.
After the first kick-off meeting of the network's principal investigators in Bologna, Italy, now ICIQ hosts the first meeting that gathers all the PhD students that participate in the PHOTOTRAIN ITN Network. During three days, students will participate in a multidisciplinary workshop to train core scientific and transferrable skills.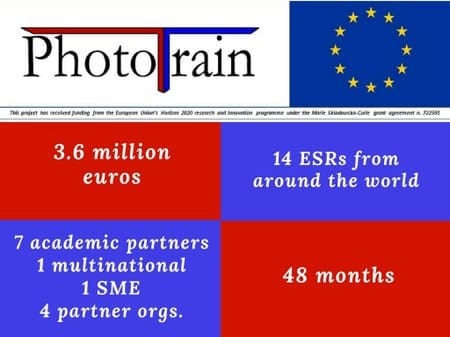 PHOTOTRAIN seeks to implement photo-catalytic technologies at the industrial level for triggering stereoselective organocatalytic transformations. It is coordinated by Prof. Giacomo Bergamini from the University of Bologna and it involves 4 European universities (Universita di Bologna, Cardiff University, Katholieke Universiteit Leuven and Universita degle studi di Trieste), 3 research centres (ICIQ, Technion-Israel Institute of Technology and Consiglio Nazionale delle Ricerche) and 2 companies (Dr. Reddy's Laboratories Ltd.,UK and Elvesys SAS, France).