When chemists think about the ideal catalyst, they think of a relatively easy to synthesise, nontoxic and cheap molecule that can afford high turnovers. Other important requirements are a broad substrate scope, high functional group tolerance and low catalyst loadings.
Now, Arjan Kleij and his research group have developed an aluminium catalyst for the formation of highly functional organic carbonates that meets all those requirements. The results are published in JACS.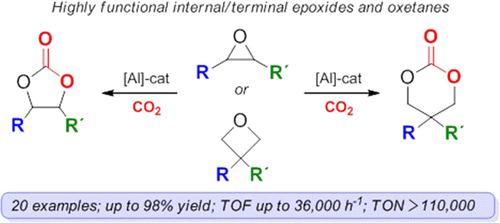 This aluminum complex, based on an amino triphenolate ligand scaffold, shows unprecedented high activity (initial TOFs up to 36 000 h–1) in the formation of highly functional organic carbonates prepared from epoxides and CO2. Earlier catalysts for this type of conversion with similar functional group tolerance rarely exceeded turnovers of 200 h–1.
The team is currently investigating the catalytic potential of this Al-complex in the formation of organic products derived from CO2 and other suitable substrates.
This research has been highlighted in Chemistry Views.
Christopher J. Whiteoak, Nicola Kielland, Victor Laserna, Eduardo C. Escudero-Adán, Eddy Martin, Arjan W. Kleij,
J. Am. Chem. Soc. 2013.
DOI: 10.1021/ja311053h