The creation of the new ICIQ spin-off, Jolt, has recently been made official. The signing took place in Barcelona ​​and was attended by the founding members of Jolt: Leon Rizzi, executive director; Professor Julio Lloret-Fillol, scientific director, ICIQ group leader and ICREA Professor; Dr. Alberto Bucci, technological director; and Arturo Vilavella, director of operations. Also participating in the signature were Emilià Pola Robles, executive director of ICREA; Professor Emilio Palomares, ICIQ director and group leader, and ICREA Professor; Dr. Laia Pellejà, ICIQ administrative and communications director; and Daniel Gonzálvez, representative of The Collider programme, who also participates in the company.
Jolt's objective is the development of catalytic solutions for water electrolysers. The advancement of this technology will allow companies to contribute to the guidelines expressed in the European Green Deal, working towards an economy free of CO2 emissions. In this sense, the executive director of Jolt, Rizzi, comments "there is an urgent need to implement technologies on the market to facilitate and favour the energy transition towards green hydrogen." Thus, Jolt promotes an economy based on green hydrogen obtained through the electrolysis of water. This process uses electricity from renewable energy sources to split the water molecule and obtain oxygen and hydrogen.
The technology developed by Jolt is aligned with the research led by Professor Julio Lloret-Fillol, who focuses his work on the development of catalysts for artificial photosynthesis. Bucci, now Jolt's chief technology officer, worked as a postdoctoral researcher in the Lloret-Fillol laboratory developing an innovative method for the production of catalysts for water electrolysers. This is how in 2021, Lloret-Fillol and Bucci started their entrepreneurship project by participating in the Mobile World Capital Barcelona innovation programme "The Collider", which brings together scientific and entrepreneurial talent to create deep tech companies and which has culminated in the creation of the spin-off.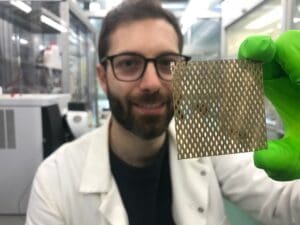 The production of catalysts to improve energy efficiency and productivity of electrolysers is a key point of Jolt's scientific and technological development. In this sense, Bucci claims "our catalysts improve the efficiency and durability of electrolysers. Thanks to a larger surface area they can work with higher electrical currents, and due to the novel preparation methodology, they are stable under working conditions – and even harsher. This implies that Jolt is prepared to offer competitive and innovative technological solutions for industry."
The challenge of changing the energy model presents various obstacles, and as stated by Vilavella, Jolt's operations director, "it is evident that there is a lack of infrastructure to have a hydrogen-based economy. It is necessary to create an industrial fabric that allows for the maximum use of this energy vector to promote the energy transition."
ICIQ's director of Technology and Knowledge Transfer, Dr. Ignacio Manzanares, emphasises "it is very important for us to promote the emergence of new companies based on the science that has been developed at the institute, and even more, to contribute to the development of business models based on circular economy and sustainability approaches to improve the well-being of society."
"We have already begun to collaborate with companies, this will allow us to consolidate our technology in the field of electrodes for water electrolysers," says Bucci – without losing sight of more ambitious plans that focus on providing innovations in the area of ​​electrochemistry.