Emilio Palomares and his research group, in collaboration with Fernando Langa's team (INAMOL), publish one of the most read articles in Organic Electronics.
The article describes the synthesis of a novel oligothiophene small molecule for its use as electron donor moiety in solution processed bulk-heterojunction organic cells (smOSC).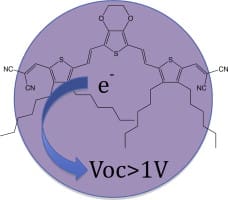 The resulting solar cells show outstanding open circuit voltage and fill factors of 1,01 V and 63,05% respectively, which are among the highest values reported so far for smOSCs.
N. F. Montcada, B. Pelado, A. Viterisi, J. Albero, J. Coro, P. de la Cruz, F. Langa, E. Palomares
Org. Electron., 2013, 14, 2826-2832