Erhan özkal, PhD student under the supervision of Professor Miquel A. Pericàs defended his PhD Thesis entitled "Triazole-based Ligands for Click Chemistry and Asymmetric Catalysis"(assigned to the Organic and Analytical Chemistry Department of the Universitat Rovira i Virgili) publicly on November 6th at the ICIQ auditorium.
The members of his evaluation committee were: Prof. Oliver Reiser (Institut für Organische Chemie, Universität Regensburg), Prof. Pedro J. Pérez (Universidad de Huelva) and Prof. Ruben Martín (ICIQ).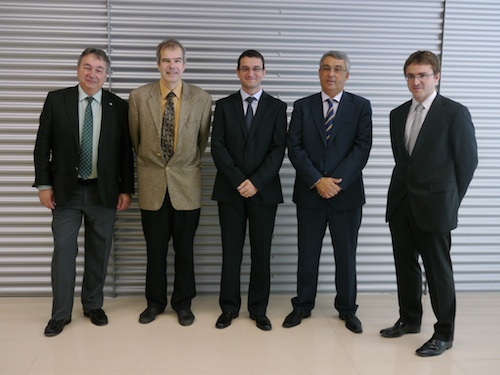 Dr. Erhan özkal, with his supervisor, Prof. Pericàs, and the evaluation committee.