Giulia Bergonzini, PhD student under the supervision of Professor Paolo Melchiorre defended her PhD Thesis entitled "Assessing the Versatility of Organocatalysis as a Strategy for Enabling Novel Asymmetric Transformations"(assigned to the Organic and Analytical Chemistry Department of the Universitat Rovira i Virgili) publicly on October 24th at the ICIQ auditorium.
The members of her evaluation committee were: Prof. Miquel A. Pericàs (ICIQ), Prof. José L. Vicario (Universidad del País Vasco) and Prof. Karl Anker Jørgensen (Aarhus Universitry).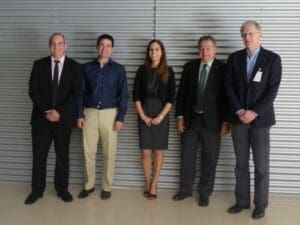 Dr. Giulia Bergonzini, with her supervisor, Prof. Melchiorre, and the evaluation committee.