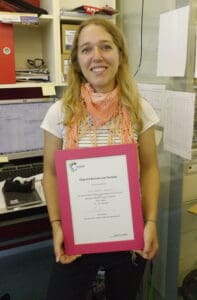 Ana García Herraiz, PhD student under the supervision of Dr. Marcos G. Suero, has received the Organic & Biomolecular Chemistry poster Prize at the XXVI Biennial Meeting in Organic Chemistry for her poster entitled 'Diastereoconvergent Alkene Cyclopropanation via Photoredox Catalysis'.
The poster describes a diastereoconvergent alkene cyclopropanation reaction by means of photoredox catalysis. The process allows the synthesis of complex cyclopropanes and it is based on the catalytic generation of radical carbenoids; a novel triplet carbene equivalent, whose behaviour is opposite to classical carbene species.
The XXVI Biennial Meeting in Organic Chemistry of the Royal Society of Chemistry of Spain took place in Punta Umbría (Huelva, Spain) last week (June 14th-17th). It was composed of six Plenary Lectures, three Keynote Lectures, ten Invited Lectures, 36 Oral Communications, 108 Flash Communications and two poster sessions.