Prof. Arjan W. Kleij, ICIQ Group Leader and ICREA Research Professor, has been  the winner of the 2023 European Sustainable Chemistry Award (ESCA).
The award recognizes Prof. Kleij's world leading position in CO2 valorization and especially catalytic methods for the synthesis and applications of cyclic carbonates.
Prof. Kleij, with more than 15.200 citations and a h-index of around 70, has (co)authored more than 220 international publications and 5 patent applications.  "This appreciation is great and fantastic news for the whole team. The award recognizes a decade of carbon dioxide catalysis in my group and provides further inspiration for the future training of experts in sustainable synthesis and carbon recycling strategies", says Kleij.
He is current member of several advisory (ChemCatChem, Journal of CO2 Utilization, ASC Sust Chem Engin) and editorial boards (ChemSusChem, Molecules). He is also guest editorships for Catal. Sci. & Technol., ChemSusChem and Adv. Synth. Catal.; chairman of the CDCC conference in Portugal in 2016, chair of the EUGSC-4 conference in 2019; He joined Organic Chemistry Frontiers (RSC) as an Associate Editor in 2019.  He received the 2020 RSEQ Excellence Award and became a FRSC in 2021.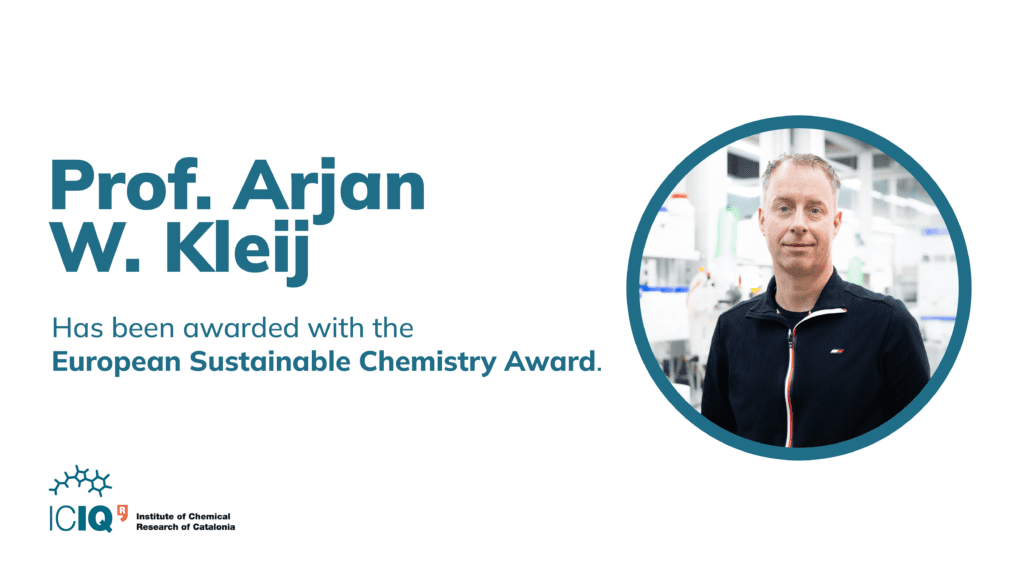 The European Sustainable Chemistry Award was initially launched in 2010 by the European Chemical Society (EuChemS) and honors every two years scientists who have made outstanding contributions in the field of chemistry. The ESCA is intended to be a prestigious scheme which will raise the profile of sustainable chemistry and be a spur to innovation and competitiveness.
The EuChemS Sustainable SCA 2023 will be presented to Arjan W. Kleij at 6th EuChemS Conference on Green and Sustainable Chemistry (6EuGSC), that will be held on September 2023 in Salerno (Italy).
Interview
You can read the interview from Euchems with Prof. Arjan Kleij, in the following link.