The second
Chem Soc Rev Lecture Award
was presented to
Prof. Feliu Maseras
, Group Leader at ICIQ, by Advisory Board Member Prof. Odile Eisenstein, at the recent 8th WATOC meeting in Sydney (Australia), which took place from the 14th – 19th September, and was well attended with approximately 850 participants.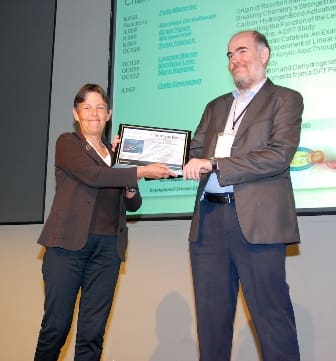 Prof. Feliu Maseras receiving the 2008 Chem Soc Rev Lecture Award by Prof. Odile Eisenstein
Prof. Maseras spoke first in the Use of computations in organometallic chemistry session, organised by Prof. Eisentein, which also featured the vice chair of the meeting. His award lecture entitled The complex mechanism of cross-coupling reactions gave an overview of his research on cross-coupling reactions and how computational methods have been used to understand the several variants such as Suzuki-Miyaura, Hartwig, etc.
The aim of the Lecture Award is to recognise an individual's innovative contributions to the advancement of knowledge in key areas of the chemical sciences.