The Academia Europaea has elected Prof. Antonio Echavarren and Prof. Miquel A. Pericàs as members of the pan-European institution. The election has been made based on their academic achievements.
Prof. Echavarren is an international expert in gold catalysis. Over the years, he has authored about 300 scientific publications and received many awards, such as the 2010 Gold Medal of the Royal Spanish Chemical Society and the 2015 Arthur C. Cope Scholar Award from the American Chemical Society. He is the current President of the Spanish Royal Society of Chemistry (RSEQ).
Prof. Pericàs has led the development of flow processes for organic synthesis, contributing to a more sustainable practice of chemical synthesis. He is co-author of some 320 scientific publications and 30 patents. Among others, he was a recipient of the Distinció de la Generalitat de Catalunya per a la Promoció de la Recerca Universitària award in 2000, the 2005 Narcís Monturiol Medal of Generalitat de Catalunya for Scientific and Technological Merits and the 2019 Gold Medal of the Spanish Royal Society of Chemistry (RSEQ).
"It's a great recognition to be part of the Academia Europaea. I'm very excited to join the organisation and work to promote European research, and further interdisciplinary and international research," says Pericàs.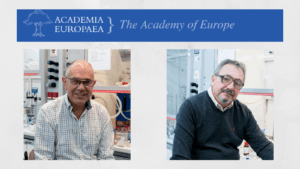 Invitations to the new members of the Academy are made after peer group nomination, scrutiny and confirmation as to the scholarship and eminence of the individual in their chosen field. Since the foundation of the Academia in 1988, only 18 Spanish researchers have been appointed to the Chemical Sciences Section.
Echavarren and Pericàs will be able to attend the 2021 Member conference which will be held in October 2021, hosted in Barcelona although virtually. They will have an opportunity to meet colleagues and give a short presentation on their research during the 2022 annual conference in October. During that event, there will also be a more formal welcome and induction ceremony for the new members.
The Academia Europaea is a non-governmental association of Humanities, Letters and Sciences, composed of individual members that operate seven regional knowledge hubs (Barcelona, Bergen, Budapest, Cardiff, Munich, Tbilisi and Wroclaw). The Academia Europaea has over 4500 members including leading experts (among which are 72 Nobel Laureates) from the physical sciences and technology, biological sciences and medicine, mathematics, the letters and humanities, social and cognitive sciences, economics and the law. Its members are scientists and scholars who collectively aim to promote learning, education and research. The Academy organizes meetings and workshops, provides scientific and scholarly advice and provides the international journal the 'European Review' and Biology Direct.
The Academia Europaea has a Chemical Sciences Section which covers all areas of experimental and theoretical chemistry, it also includes the interface with other disciplines, such as pharmacy, chemical engineering and materials science. Members perform research in academic, research and industrial institutions.