The ability to transform the greenhouse gas CO2 into valuable chemical products is one of the Holy Grails in chemistry nowadays. However, converting CO2 into other chemicals is very challenging due to its high thermodynamic stability.
In this paper, which is highlighted in the cover of Catalysis Science & Technology, Arjan W. Kleij and his co-workers find that improving the contact between all the components of the Zn (salphen) catalytic addition of CO2 to epoxides improves the yield of the resultant carbonate synthesis.
They do that by using carbon dioxide in the supercritical state and working under solvent-free conditions. The supercritical CO2 acts both as a reagent and as a solvent.
Kleij and his team obtain excellent yields and selectivity in the synthesis of cyclic carbonates with a green, solvent-free process.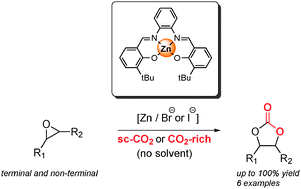 Masoumeh Taherimehr, Antonello Decortes, Syed M. Al-Amsyar, Warunee Lueangchaichaweng, Christopher J. Whiteoak, Eduardo C. Escudero-Adán, Arjan W. Kleij and Paolo P. Pescarmona
Catal. Sci. Technol., 2012, 2, 2231-2237