The programme Repte Experimenta, led by Universitat Rovira i Virgili (URV) in collaboration with ICIQ, has closed its 2021 edition with the delivery of the Experimenta 2021 Awards. In this edition of the Experimenta in the Classroom Challenge, a team of four students from the school Pare Manyanet from Reus mentored by Dr. Andreu Tortajada (former PhD student in the Martin group) have won the BASF Experimenta award with their experiment "Let's make a fluorescent non-Newtonian liquid."
Repte Experimenta aims at promoting scientific vocations among middle-school students by challenging the teams to design an experiment and make a video with the help of their scientific mentors – both from academia and companies related to the chemical and biotechnological areas. From the 159 teams that have participated in the Experimenta in the Classroom Challenge, the jury chose three groups to receive the award to "Best Young Scientific Disseminators." The jury, which included ICIQ Outreach coordinator Laura Hernández, highlighted the originality, scientific rigour and effective communication of the videos presented. The ELIX Experimenta award went to students from the Institute of Tarragona for their demonstration "Eggs that don't break"; the BASF Experimenta award went to the Reus school Pare Manyanet for "Let's make a fluorescent non-Newtonian liquid"; and the DUPONT Experimenta award was for "Lava lamp with bubbles" from the Institute Ramón de la Torre.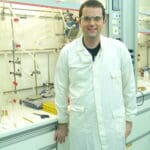 "Repte Experimenta has been a fantastic experience," says Tortajada "I helped a team of four students to become scientists in the classroom. They had to search for information, understand the principles, make the experiments and film a short video explaining their work and conclusions to others. I think this programme is a great way to bring science from the laboratories and universities closer to the classrooms. It gives the students a taste of being a researcher and it might motivate them to continue studying science and eventually become the researchers of the future. I have enjoyed the opportunity to bring science to the classroom as it's fun and motivating for the students so that they don't perceive science as an unachievable and boring discipline."
Six centres from the Tarragona region have taken part in this year's Experimenta in the Classroom Challenge: Institute Tarragona, La Salle Tarragona, La Salle Torreforta, all three from Tarragona; Institute Ramon de la Torre (Torredembarra), Institute Mar de la Frau (Vilafortuny, Cambrils), and Pare Manyanet (Reus), with a total of 637 students.