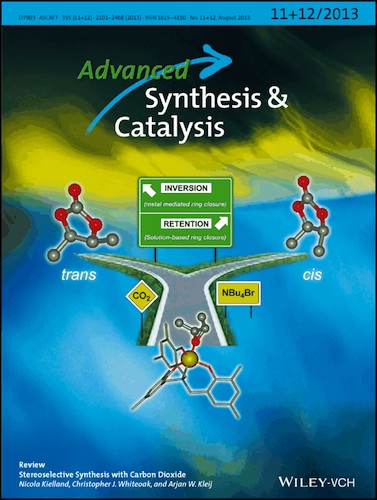 Cyclic carbonates are interesting compounds in the synthesis of pharmaceutical and fine chemical intermediates.
However, whilst the the atom efficient synthesis of cyclic organic carbonates through addition of CO2 to terminal epoxides is well-known, the use of internal epoxides as substrates has received much less attention and important synthetic challenges, such as stereocontrol, remain to be solved.
This paper, published on the cover of Advanced Synthesis & Catalysis by Arjan W. Kleij and co-workers, explains the stereodivergent behavior of the cycloaddition of CO2 to internal epoxides.
As the cover picture shows, the stereochemical divergence relates to two accesible catalytic pathways, one leading to formal retention of configuration (outer-sphere pathway) and the other giving rise to formal inversion of configuration (inner-sphere pathway).
To find out more about these results, read the paper below.
Stereochemical Divergence in the Formation of Organic Carbonates Derived from Internal Epoxides
Christopher J. Whiteoak, Eddy Martin, Eduardo Escudero-Adán, Arjan W. Kleij
Adv. Synth. Catal., 2013, 355, 2233-2239