The research group of Professor Pericàs works on the development of basic toolkits of organocatalysts covalently immobilised either onto polymers or magnetic nanoparticles for batch and continous flow applications. The main advantage of this sort of organocatalysts is their ease of recycling and therefore, their reuse potential.
In this paper, published in Advanced Synthesis & Catalysis, Prof. Pericàs and co-workers report, for the first time, an example of a chiral squaramide organocatalyst supported onto polystyrene. They use this novel highly efficient heterogeneous catalyst for the Michael addition of 1,3-dicarbonyls compounds to β-nitrostyrenes. The PS-supported squaramide can be recycled up to 10 times.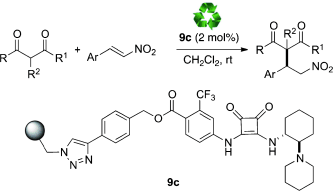 Graphical Abstract
The Editorial Board of Synfacts has selected this paper for considering it one of the most significant recent developments and future trends in synthetic chemistry.
Pinar Kasaplar, Paola Riente, Caroline Hartmann, Miquel A. Pericàs
Adv. Synth. Catal., 2012, 354, 2905-2910