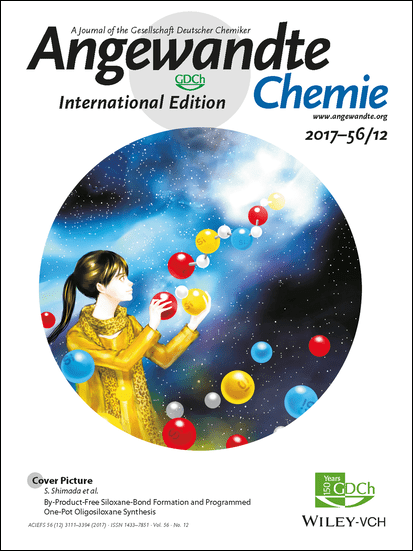 Two ICIQ papers published in Angewandte Chemie have been highlighted as most accessed in February 2017:
A communication by Prof. Rubén Martín's group:
Ni-Catalyzed Stannylation of Aryl Esters via C−O Bond Cleavage
Y. Gu, R. Martin.
Angew. Chem., Intl. Ed. 2017, 56, 3187-3190. DOI: 10.1002/anie.201611720.
A Ni-catalyzed stannylation of aryl esters with air- and moisture-insensitive silylstannyl reagents via C(sp2) −O cleavage is described. This protocol is characterized by its wide scope, including challenging combinations, thus enabling access to versatile building blocks and orthogonal C−heteroatom bond formations.
And a communication by Profs. Feliu Maseras' and Prof. Paolo Melchiorre's groups:
Light-Driven Enantioselective Organocatalytic β-Benzylation of Enals
L. Dell'Amico, V.M. Fernández-Álvarez, F. Maseras, P. Melchiorre
Angew. Chem., Intl. Ed. 2017, 56, 3304-3308. DOI: 10.1002/anie.201612159.
A photochemical organocatalytic strategy for the direct enantioselective β-benzylation of α,β-unsaturated aldehydes is reported. The chemistry capitalizes upon the light-triggered enolization of 2-alkyl-benzophenones to afford hydroxy-o-quinodinomethanes. These fleeting intermediates are stereoselectively intercepted by chiral iminium ions, transiently formed upon condensation of a secondary amine catalyst with enals. Density functional theory (DFT) studies provided an explanation for why the reaction proceeds through an unconventional Michael-type addition manifold, instead of a classical cycloaddition mechanism and subsequent ring-opening.