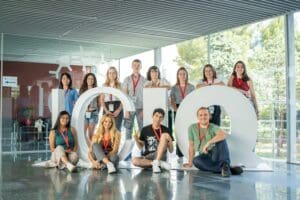 We are pleased to welcome back at ICIQ the 2022 Summer Fellows. After two years, 13 undergraduate students who currently are developing their studies on chemistry and other related specialties, will enjoy the opportunity to carry out a research project supervised by ICIQ researchers.
Moreover, these grants offer the students the opportunity of receiving complementary training to improve their competences and skills as scientists.
Supported by "La Caixa" Foundation and the Spanish State Research Agency (through the Severo Ochoa Centres of Excellence Programme (CEX2019-000925-S (MCIN/AEI/10.13039/501100011033) the fellows have an opportunity to pursue and develop their own project in the field of chemistry.
The ICIQ 2022 Summer Fellows are:
Laia Marín Moncusí – Prof. Palomares
María Tejera Ruiz– Prof. Pau Ballester
Dayana Galeas – Prof. Feliu Maseras
Paola Monguilod Brun – Prof. Antoni Llobet
Anna Arnanz Cantí– Prof. Antonio M. Echavarren
Alannah Constable – Prof. Arjan Kleij
Luis Merchante Gallego– Prof. José Ramón Galán-Mascarós
Marta Romero Ribas– Prof. Mónica H. Pérez Temprano
Marina d'Ottavio – Prof. Julio Lloret
Zarko Ivkovic – Prof. Núria López
Sean M. Cardiff – Dr. Katherine Villa
Tran Thi Huyen Trinh – Prof. Marcos G. Suero
Berta Bori Bru – Prof. Carles Bo