In 2012, the ICIQ Seminars Programme sponsored by BASF, has welcomed a total of thirty six international top class researchers from different disciplines within the chemical sciences.
'This programme gives our researchers the opportunity to learn from world class scientists about the newest developments in chemistry' – points out Prof. Feliu Maseras, chairman of the Seminars Programme this year. He also outlines that it allows to increase the visibility of the Institute in the international arena.
This year, as it has become common practice, three last year ICIQ PhD students, Giovanni Salassa, Carla Obradors and Iván Castellón, were in charge of closing up the programme of seminars.
Giovanni Salassa is an Italian PhD student who works int the group of Arjan Kleij. He works on the preparation of new macrocyclic multinuclear salen structures and their photophysical, catalytic and templating properties. His talk dealt with self-assembled functional materials based on metallosalens.
'ICIQ Seminars Programme give us (young researchers) a big opportunity to be in contact with the biggest personalities in our scientific field and also to broaden our knowledge on other topics. Our seminars programme is indeed very competitive. It counts with the best universities and institutes in the world. Therefore, it was an honour to be invited to present my work in the last ICIQ seminar. I hope the audience enjoyed my presentation as much as I did!' – he tells us.
Carla Obradors belongs to Antonio Echavarren's team. She is working on the development of new gold-catalyzed intermolecular reactions of alkynes and alkenes. In her talk, she shared with us her results on 'Dissecting an Intermolecular Gold-Catalyzed Reaction'.
'I was very happy to have the chance to present my work in this seminar and expose the chemistry of the group to the rest of the institute. It meant a show of trust and support from my supervisor and the rest of the members of the group that I truly appreciate.
The opportunity given to young ICIQ researchers to talk at the closure of the Seminars Programme is a very good initiative to broadcast the work that is performed at our institute so we can learn about new topics in chemistry and it may also reinforce interdisciplinary. In addition, it helps students to improve their presentation skills in a more friendly atmosphere. I think it would be a good idea to do it more often in order to give this opportunity to more students.' – says Carla.
To finish off, Iván Castellón who works on new bioapplications of quantum dots with Emilio Palomares, discussed his research on 'FRET process between QDs and dye to detect Cystic Fibrosis'.
'ICIQ Seminars Programme allows us to know how science is developing in new areas and how young people like us can contribute in this process. I was really proud of being one of the speakers of the ICIQ young seminar this year, I would like to thank ICIQ for giving me the opportunity to share my results. It was an honor to give my first official talk in this seminar. The fact that everybody was interested in my research encouraged me to carry on with my experiments.' – adds Iván.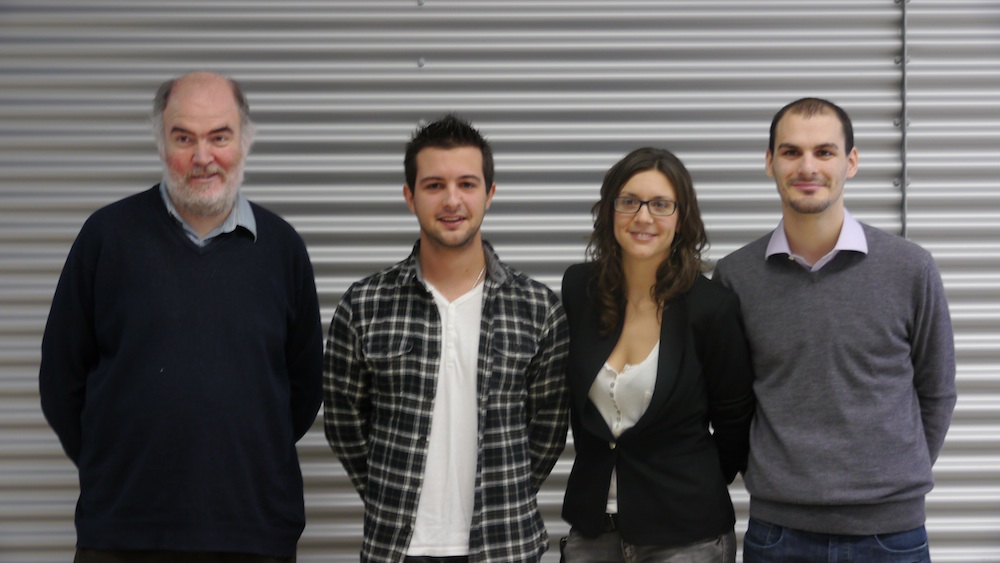 Feliu Maseras, Ivan Castelló, Carla Obradors and Giovanni Salassa
The outcome of this year programme of seminars has been very positive. Prof. Maseras agrees that 'we have managed to maintain the high level that was established by my predecessors in the chairman position'.
He also acknowledges the collaboration from ICIQ personnel and the administrative support of Judit Martinez.
Next year, the chairman of the 2013 ICIQ Seminars Programme will be Prof. Paolo Melchiorre. The list of speakers will be published on the ICIQ web-page.