Abstract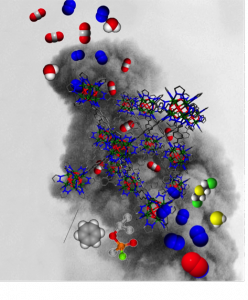 The selective adsorptive properties of crystalline porous materials are of paramount importance in environmental remediation processes, gas separation, heterogeneous catalysis and biomedical applications. The relevance of this kind of solids can be exemplified by zeolites which have a worldwide market of 300,000 million of dollars per year.
Noteworthy, in the last few years, a new class of crystalline nanoporous materials known as metal–organic frameworks (MOFs) has emerged as an alternative to zeolites, due to their fascinating performance in molecular adsorption and catalysis. Moreover, it should be noted that this field of research has recently evolved from an initial interest in the discovery and characterization of new porous systems to the development of advanced materials and applications thereof.1
In this talk, it will be summarized the research that is going on in our research group at the UGR about the possible applications of MOF materials in three different fields of societal interest:
Capture and degradation of harmful volatile compounds.2
Capture of greenhouse gases.3
Transport and delivery of bioactive molecules.4
_________________________________________________________________________________________
1 See e.g. S. Kitagawa, H. C. Zhou, Chem. Soc. Rev. 2014, 43, 5415.
2 E. Barea, C. Montoro, J. A. R. Navarro, Chem. Soc. Rev. 2014, 43, 5419.
3 E. López-Maya, C. Montoro, V. Colombo, E. Barea, J. A. R. Navarro, Adv. Func. Mater. 2014, 24, 6130.
4 S. Rojas, E. Quartapelle-Procopio, F. J. Carmona, M. A. Romero, J. A. R. Navarro, E. Barea J. Mater. Chem. B. 2014, 2, 2473.