Master Programmes
URV/ICIQ Master in Synthesis, Catalysis and Molecular Design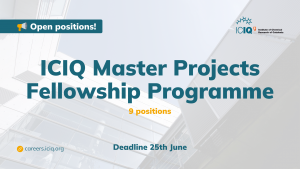 ICIQ encourages outstanding students to enroll in the URV/ICIQ MSc in Synthesis, Catalysis and Molecular Design and to pursue afterwards doctoral studies. This MSc (1 year course, 60 credits) is given in English and provides comprehensive knowledge on synthetic and catalytic processes, from laboratory to industrial scale. It consists of two semesters; one of theoretical lectures and one semester of laboratory research under the supervision of one of the ICIQ or URV group leaders.
If you would like carry out master studies at ICIQ or URV and then have access to a PhD programme, please apply for a Master's scholarship from ICIQ's or URV's general Call for Master Projects Fellowships which are launched in March.  The selected graduate students will be awarded a scholarship for full-time studies in order to achieve the Master's degree.
For more information, please contact positions@iciq.es
BIST-UPF Master of Multidisciplinary Research in Experimental Sciences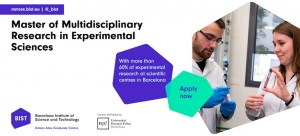 You may also pick other Master programmes related to the research carried out by our research groups. The ICIQ also participates in the Master of Multidisciplinary Research in Experimental Sciences (BIST-UPF).
The Master of Multidisciplinary Research in Experimental Sciences is a joint academic programme of the Department of Experimental and Health Sciences of UPF (DCEXS, UPF) and the Barcelona Institute of Science and Technology (BIST). The programme offers highly flexible and personalized hands-on research training in a multidisciplinary research environment.
In addition to the research aspect, the master's will also develop talented scientists through experiential training in professional skills such as scientific communication, project management, responsible research and innovation.