Andrés Felipe Sierra, PhD student under the supervision of Prof. Pau Ballester, has defended his PhD thesis entitled "Calix[4]pyrrole Cavitands for Supramolecular Sensing and Catalysis" (assigned to the Organic and Analytical Chemistry Department of the Universitat Rovira i Virgili) publicly on February 24th.
The members of the evaluation committee were: Prof. María Concepción Gimeno Floría (CSIC – Universidad de Zaragoza), Prof. Beatriu Escuder (Universidad Jaime I) and Dr. Pascal Blondeau (Universitat Rovira i Virgili).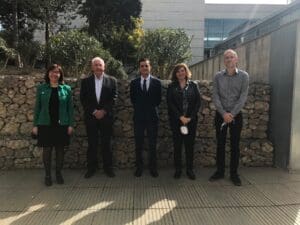 Dr. Sierra is from Bogotá, Colombia. He obtained his bachelors and masters in Chemistry from Universidad Nacional de Colombia. Once graduated, he moved to Florencia Caquetá, near the Amazonia basin, to work as an associate professor. In 2017 he joined ICIQ's Ballester group as a PhD student. Outside the lab, he enjoys playing table tennis and video games with friends – but he hasn't played in a long time because he had to focus on his thesis!
What do you want to achieve as a scientist?
My first and main motivation is to understand the world around us. As a chemist, I think supramolecular chemistry has great potential as it allows us to imitate, to a point, the macroscopic world works on a microscopic scale. I would like to take supramolecular chemistry one step further and expand its applications related to health.
What's your thesis about? Does it have an application?
My main goal was to use calix[4]pyrrole molecular containers to sense creatinine, which is a biomarker for kidney malfunction. The current method to determine if there's creatinine in a sample is quite old and has interferences, so we designed a specific cavity for the creatinine in the calix[4]pyrrole. I attached the calix[4]pyrrole to fluorophores, which are fluorescent compounds that work as markers turning on or off when/if they bind with a specific molecule, and once creatinine enters the cavity, there's a modulation in the emission of the fluorophores, providing a connection between the concentration of creatinine and the emission of the fluorophores. So, even though it's basic research it has clear potential for application.
What do you like the most about working in the lab?
That time is relative! Every time I'm working in the lab, time flies by. You need to solve many different problems when working in a lab, so your mind is always busy, thinking about how to overcome these challenges.
What do you wish you had known at the beginning of your PhD?
That in the end, everything works out. There are many times during the PhD when you feel you're stuck in darkness and nothing works. Like when your results aren't what you expected, but that's actually a great moment to stop and consider why stuff is behaving the way it is. If you work and push forward, you'll learn many things during your PhD!
What can we improve?
Writing a thesis can be stressful, we eventually become irritable and need a quiet space to write. So, I think it would be nice to have a designated room at ICIQ for the people who are writing their thesis. I also feel it would be beneficial to everyone at the institute to have a comfortable space to relax and unwind.
Do you have a favourite molecule?
[A dansyl-derivative calix[4]pyrrole] senses directly the creatinine, it's my favourite for all the hard work I put into it.
What's next?
I'll stay a bit longer at ICIQ as a postdoc to finish a couple of projects I was working on that have promising results.
If were to become a piece of lab equipment, what would you be?
A fluorometer. It's such a sensitive instrument, it can discover the tiniest details of the world!
Tell us something about you that most people don't know… back in Colombia, I worked for some time in the peace-making effort by analysing explosive and post-explosion samples.