Starting today, nominations can be submitted for the first BASF-ICIQ Innovation & Entrepreneurship Awards. The two organizations, which have collaborated for years on projects related to the promotion of scientific research in the field of chemistry, thus open a new chapter in which we seek to reward the best practices of the moment. The awards will consist of three different categories.
In the first place, there's the award for the best doctoral thesis in any applied science or to solve industrial challenges. The objective in this category is to recognize doctoral theses within the area of ​​chemistry with a high level of quality and will have an economic endowment of €2,500. The requirements to qualify for the best thesis award are having read and publicly defended the doctoral thesis at a Spanish or Portuguese university during the last three years and having published at least one article in a recognized scientific journal, derived from the doctoral thesis and have stated the affiliation of the university in question.
The second category of the awards will recognize the best patent, for the most relevant scientific-technological advances that demonstrate a knowledge transfer activity, patented in the Iberian Peninsula in recent years. This prize will consist of a diploma and an economic endowment of €2,500. It will be necessary for the patent in question to be focused within a delimited technological field and to have already been published and filed during the last 10 years (for patents from OPIs and universities) or in the last 5 years (for patents from companies).
Finally, the third category will reward entrepreneurs, recognizing the trajectory and efforts of young companies with great potential in the field of chemistry. This prize will be endowed with €4,000 and to achieve it, the companies that apply for it must be constituted as a for-profit legal person (SA, SL, Labor Society, Cooperatives, Civil Society) and have a fiscal domicile within the peninsula, have started its activity within the last 5 years and be a small or medium-sized company.
Nominations can be submitted until Tuesday, April 19 at 2:00 p.m., each nomination can only be submitted to a single award modality and all the details of the bases can be consulted here.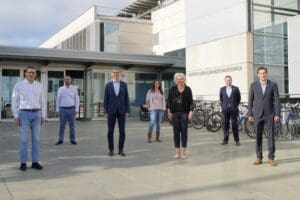 A lasting collaboration
The awards mark a new stage in the relationship between BASF and ICIQ, which goes back a long way. In this current collaboration agreement, BASF will continue to be the main sponsor of the ICIQ Seminar programme, which every year brings to our premises about twenty prestigious national and international researchers who work in different areas of chemistry. The Seminar Programme is open to all ICIQ researchers and the scientific community in general. BASF has been the main sponsor of this programme since 2012 and, during this time, it has received illustrious visits such as those of the Nobel Prize winners B. Feringa, K.B. Sharpless, R.R. Schrock, R. Grubbs, and A. Suzuki.