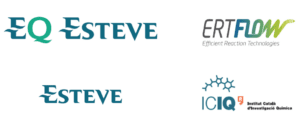 The R&D teams of Esteve and Esteve Química team up with ICIQ and our technology development unit ERTFLOW to kick-off an ambitious research project dubbed FLOW4HEALTH. This project will develop new continuous-flow chemical processes to prepare new drugs and molecular leads useful for the pharmaceutical industry.
FLOW4HEALTH's continous-flow processes will allow chemists to work with extreme reaction conditions and dangerous reagents in a safer, more predictable way. The project will accelerate the first stages of drug development by designing innovative laboratory equipment towards quicker purifications, enhanced productivity and more sustainable methodologies.
Recently, FLOW4HEALTH received €1.2m in funding from the Spanish Government.
For news media: / Para periodistas: