Prof. Paolo Melchiorre's research group have found that an organic molecule as simple as p-anisaldehyde can efficiently catalysed the intermolecular atom-transfer radical addition of a variety of haloalkanes onto olefins with exceptionally mild reaction conditions.
Atom-transfer radical addition (ATRA) to alkenes is an effective way to functionalize easily available olefinic substrates to obtain a wide variety of compounds. The addition of an organic halide across a carbon-carbon double bond generates a new C-C and C-X bond (X: halogen) in a single operation. This process usually requires stoichiometric amounts of initiators (mostly toxic or explosive) and high reaction temperatures.
Given the above, it is clear that a suitable approach for generating radical intermediates under mild reaction conditions, which avoids expensive transition-metal catalysts or toxic reagents, is needed.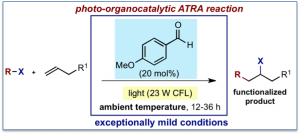 In their search of metal-free photochemical processes, Prof. Melchiorre group have found that p-anisaldehyde, working as a photosensitizer, can efficiently catalyse the intermolecular ATRA of a variety of haloalkanes onto olefins. The chemistry only requires irradiation from a household 23 W compact fluorescent light bulb to proceed, and ambient temperature is sufficient for achieving functionalized olefins with synthetically useful results.
"This is an historical reaction that usually requires oxidants, radical initiators and thermal activation with average temperatures of 100 ºC. What we have found is that we can promote this historical reaction in a very mild way. We are using a really simple molecule (p-anisaldehyde) in catalytic amount and a simple fluorescent light bulb that is easily available. And what probably is the most important point, the reaction is conducted at room temperature. What I like in this work is the possibility to do chemistry using very simple organic compounds and a light that doesn't require any specific apparatus. It is a simple way to do an important transformation" –says Prof. Melchiorre.
These findings, that have been highlighted in the ChemistryViews website and in Synfacts 2014, Vol 10, Issue 12 (1325), are expected to open new avenues for reactions design in the field of radical processes and represent and advance in sustainable, environmentally friendly radical reactions. The paper is also among the ACIE most accessed in Sept/2014.
Photo-Organocatalysis of Atom-Transfer Radical Additions to Alkenes
E. Arceo, E. Montroni, P. Melchiorre
Angew. Chem. Int. Ed., 2014, 53, 12064-12068