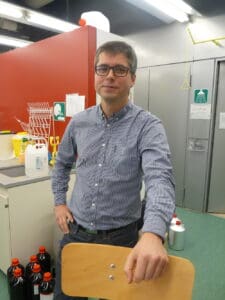 Dr. García Suero has joined our Institute through ICIQ's Starting Career Programme (ICIQ-SCP), a programme aimed at attracting new talent and help young researchers (post-doc level) to start their independent careers.
Marcos García Suero graduated in Chemistry from the Universidad de Oviedo in 2003 and in 2009 he obtained his PhD degree at the Institute of Organometallic Chemistry Enrique Moles (Universidad de Oviedo), where he worked under the direction of Prof. José Barluenga and Prof. Josefa Flórez on Fischer carbene chemistry. During the summer of 2005 he joined the laboratory of Prof. Andrew Myers at Harvard University working on the synthesis of novel tetracycline antibiotics as a PhD visiting student. In 2010 he moved to the University of Cambridge to work with Professor Matthew Gaunt on copper catalysis as a postdoctoral Marie Curie fellow.
At ICIQ, Marcos G. Suero plans to explore new reactivity concepts using catalysis and its applications in solving important synthesis problems. Particularly, he aims to develop new carbon–hydrogen bond functionalization strategies of simple building blocks that could be used for the preparation of complex molecules and biologically privileged structural motifs. Part of this research will be carried out in the CELLEX-ICIQ HTE Laboratory using High Throughput Experimentation, which will enable the rapid discovery and development of new chemical reactions.